Love: Lost and Found on The Edge of Alzheimer's

When your loved one starts to imagine a new love, your emotions need to be checked.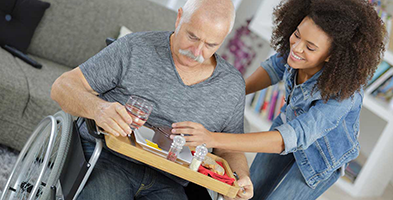 Alzheimer's disease is now the sixth leading cause of death in the United States. Behind this statistic are 16 million Americans providing unpaid care to a loved one with Alzheimer's or related dementias. The face of caregiving today is a family member or friend doing their best to survive the role of care partner.

Are you one of them?

Thinking about the dementia journey my mother and I shared over 18 years; waves of powerlessness, loneliness and guilt always come first. They are the emotions I often felt as an uneducated caregiver. Trying to remember the good, my mind usually finds its way to the pain of my shortcomings.
---
MORE ARTICLES
How Our Children Heal Us—When We Let Them

Conscious parenting is understanding that our children are reflections of their environment and can enhance our self-awareness.
Essay: The Best Marriage Advice You'll Get

If you need to understand what great marriage advice sounds like, here it is, ready to be read whenever you're ready or it's needed.
What You Can Learn From Relationships: 3 Key Things to Know

For your relationships to blossom you need to embrace your love within.
3 Tried and True Marriage Tips For Every Couple

Like any great adventure, a little planning in your marriage can make the journey exponentially more exciting and fun.
Am I Safe with You? Are You Safe with Me?
Success: What Do You Have To Sacrifice In Order To Get It?
3 Quick and Helpful Tips for Improving Your Marriage
Essay: Married To A Narcissist
Change As Freedom
When Divorce is Unavoidable, Offer Support
Why You Should Change Yourself Instead of Your Spouse
4 Reasons Why Love is a Neurochemical Roller Coaster
Understanding Marriage to Have a Happy Marriage
How to Love the Messiness of Your Marriage
How to Cope with the Ex Who Wants to Punish You
8 Tips On How To Spot A Narcissist and What You Should Do About It
Could Your Marriage Use a Tune Up?
The Importance of Marital Communication When Sick
The Downside of Flirting While Married
5 Real Reasons Couples Separate
Us vs. Them Equals a Happy Marriage
Signs You're in a Relationship with a Narcissist
Feeling Down This Holiday Season? Give Yourself the Gift of Joy & Gratitude
3 Gifts of Presence for the Holidays
Are the Empty Nest Blues Placing Our Marriages at Risk?
Anxious Before Bedtime? This Habit Will Turn That Frown Upside Down
Happy Holidays! National Poll Shows Otherwise for Most
5 Healthy Boundaries for a Healthy Marriage
Thanksgiving: A Time to Remember the World is Wide Enough
What Men Don't Know
Seek This Before Deciding to Leave Your Marriage
3 Ways to Show Your Kids that Anything Is Possible
The Benefits of Post-Nups: A Simple Legal Document to Guide Your Marriage
Embracing Life's Challenges Through a Changed Lens
Stop the Talk That Drains You: Self-Talk to a Powerful You!
3 Questions to Bring You Back From Digital to Real Life
How to Save Your Marriage, Alone, Even After He Has Checked Out
4 Keys to Stop Worrying
5 Ways to Tell if Your Spouse is Emotionally Unavailable & What To Do
4 Essential Keys to a Long and Successful Marriage
Surefire Way to Feel Loved and Appreciated
A Budget Fashionista's 8 Secrets to a Happy Marriage
6 Things We Need to Stop Saying to Bereaved Parents
Healthy vs. Unhealthy Compromises for a Better Marriage
Unrealistic Expectations: The Downfall of Any Relationship
3 Ways to Compromise When Living Together
Separation or Divorce: Pros and Cons of a Critical Choice
6 Ways to Prevent Marriage Burnout
5 Small Goodbye Rituals to Improve Marriage Intimacy
5 Tips for Making the Honeymoon Phase Last a Lifetime
Dealing With Trauma in the Mouth of a Lion
The One Thing You Need For a Healthy, Lasting, Loving Relationship
The Telltale Signs of an Emotional Affair
Self-Care Isn't Selfish! 5 Easy Ways to Practice Self-Care
Why Women Give Each Other a Bad Name
How to Convince Your Spouse You're Ready for a Dog
6 Tips to Engage Creatively with Your Partner
6 Tips to Add Emotional Intelligence to Your Marriage
Why Is Your Husband Distant?
Is Consent Still Required Within Marriage?
Marriage: What Happens When Only One of You Evolves
4 Secrets that Happily Married Women Know About Quality Men
A Contemporary View of Romance
How to Handle the Manifestations of Loss
How to Prevent Growing Apart
3 Reasons Why Women Cheat
Essay: A Marriage with Mosquito Bites
Understanding the Basic Neuroscience Behind Love
Study: Empty Nesters Still Lose Sleep Over Grown Kids
Why Valentine's Day Still Matters in a Long Marriage
Don't Let Valentine's Day Ruin Your Marriage
The Emotionally Polarized Couple
Preparing Your Marriage to Change the World
Easy Ways to Have a Happier Marriage
3 Ways Our Own Goals Make Us Unhappy
9 Ways to Make Your Marriage Shine This Year
Build Stronger Relationships Through Scaffolding
How to Negotiate Your Relationship Like a Pro
Why It's Important to Plan for Death
The Nagging Questions We Ask Ourselves at the End Of Each Year
New Year's Resolutions to Strengthen Your Marriage
Creating Magic in Your Marriage 2017
Making Kindness An Everyday Habit in 4 Steps
4 Tips to Be a Better Husband in the New Year
Bridging the Divide With Gratitude
How to Lean On Your Relationship to Reduce Stress Together
Attention: The New Currency
When Does Your Man Become a Boy?
7 Codes to Creating a Strong, Healthy, Happy Relationship
Relationship Values Women Desire Most
9 Ways Adults Can Heal from Childhood Bullying Trauma
What to Do When a Loved One Says, "I Have Cancer"
Why Parents Are Stressed Out by Their Own Smartphones
An Alternative Way to Resolve Marriage Conflicts
Do You Ask Your Spouse, "Can I Kiss You?"
The 7 Gifts That Give You Everything
The Telltale Signs of an Emotional Affair
The 3 Best Gifts to Give Your Spouse for Free
Traumatic Brain Injury (TBI) and Marriage
3 Ways to Adapt Your Normal
High- and Low-Cost Behaviors: How to Rebuild Trust
Relationship Rules for the Second Half of Marriage
How to Avoid Sarcastic Communication from Destroying Your Marriage
Can A Selfish Marriage Lead To Better A Better Marriage?
Adventures of a Newlywed: They Lived Quirkily Ever After
What Prevents You From Loving Yourself?
3 Ways to Feel More Pleasure
Overcoming Neediness and Get The Love You Want
Managing Stressful Events, Together
Successful Marriage is an Art and a Talent Worth Pursuing
Reclaiming Your Firsts
6 Secrets to Grow in Your Marriage
Adventures of a Newlywed: The Third Quarter
Marriage-Improvement Tips for Young Couples
To Move Forward Learn to Let Go
7 Ways to Get Out of A Slump—And One Reason Why Not To
How to Talk About Problems In Your Relationship
How to Recall the Kindness Around You
7 Tips to Help You Get Better at Marriage Therapy
Strategies for Addressing Negative Thoughts in Marriage
The Power of Visualization
Adventures of a Newlywed: The Second Quarter
Newlyweds: Simple Tips on How to Accept Marriage Advice
What Not To Say When Talking About Cancer
3 Ways to Deal With the Small Things in Marriage
The 10 Elements of Healthy Relationships
10 Steps to Deeper Intimate Relationships
Learn to Relax: Taking Off Our Armor
Breaking the Chains of Emotional Habits
6 Things Long Lasting Couples Do Differently
7 Bad Habits to Leave Behind in 2016
Adventures of a Newlywed: The First Quarter
12 Reasons Your Marriage is Miserable
7 Ways to Revitalize Your Marriage
What Pets Can Teach Us About Being Thankful
5 Ways to Listen Better and Avoid a Holiday Family Meltdown
10 Things You Ought to Know About Love
Strengthen Your Marriage with Weekly Questions
Finding Gratitude in Grief
4 Key Elements to Creating a Nurturing and Joyful Marriage
3 Small Romantic Gestures That Are Free and Fun
Eliminate Complaints and Improve Your Life
Finding the 'Food' to Fuel Your Relationship Needs
How to Get Your Wife to Watch Sports
How Choice Can Change Your Future
Learn How to Find and Receive Joy
End Arguments by Learning to Listen
Part 3: Commitment and Healing the Wounds of Betrayal
How to Cultivate Profound Interest in Your Spouse
7 Things You Need to Quit for a Happier Marriage
4 Common Relationship Mistakes Newlyweds Make
Drop the Ego and Learn to Listen
What My Father Taught Me About Love
How to Choose Love Over Fear
How to Avoid an App-Fueled Affair
5 Ways You're Communicating Wrong and How to Do It Right
Infidelity: Can You Really Recover?
Feeling Under-appreciated & Undervalued
How to Survive the 10-Year Itch
3 Communication Skills You Need To Practice After The Wedding
Part 2: Moving Beyond the Shock of Betrayal
Understanding Behavioral Addiction in Men
How to Keep Your Marriage Balanced By Creating Distance
Marriage Saver: Talking About Resentment
Are You Too Comfortable in Your Marriage?
5 Steps to Get Unstuck and Meet Your Goals
The Chemicals That Bond Relationships
3 Relationship Repair Shop Fixes
The Difference Between Hearing and Listening
Shedding New Light On Dark Wounds
Find and Embrace the Soul Within
Communication Is Oxygen in Marriage
7 Ways You Can Find Adventure in Your Own Backyard
Why Being a Carbon Copy Couple Is Not Ideal
The Chemistry and Values Of Attachment
19 Low-Tech Ways to Weave Stronger Relationships
How to Keep Your Partner Interested
Part 1: Understanding the Pain of Betrayal
Are You Trying to Change Your Spouse?
How to Constructively Change a Behavior
How to Love
Spark a Smile: Send a Handwritten Letter
The Secret to Creating Close, Loving Ties
Helping Heal from a Suicidal Death of a Loved One
8 Discussions Couples Need to Have for a Better Marriage
How to Engage in Intellectual Foreplay
7 Keys to Make Valentine's Day Sweet for Love that's Going Sour
8 Valentine's Gifts That Don't Cost a Penny
Do's and Don'ts to Help a Spouse Who Engages in Self-Destructive Behavior
How To Write a 'Thank You' Note
How to Empower Your Marriage
Don't Make a One-Goal New Year's Resolution, Make a One-Word Resolution
11 Ways to Bring Joy and Peace Back to the Holidays
Using a Four-Letter Word to Positively Transform Your Relationships
The Unhappy Marriage During the Holidays
8 Tips to Re-Gift the Right Way
Healing the Broken Holiday Heart
5 Tips to Handle Stress as a Team During the Holidays
8 Ways to Reduce Holiday Season Stress
7 Tips for a Saner Holiday
5 Tips to Stop Faking Your Busyness
6 Ways to Cultivate Compassion in a Self-Absorbed World
Connecting Self-Esteem in a Social Media World
6 Simple Actions to Show Others You Care
What to Do When Your Spouse Makes Snarky Comments
How to Defend Against 5 Common Emotional Vampires
8 Ways To Become Happier With Your Day-To-Day Life!
The Appreciation Habit
The Perilous Consequences of Short-Term Gratification
Coping With 4 Common Abandonment Responses
4 Quick Tricks to Overcome Procrastination
The September Squeeze: How to Choose Sanity As You Enter Fall
10 Steps to Make Your Marriage Thrive
Misery: 7 Reasons Why You May Be Suffering
Learn to Love More by Setting Limits
If You Think Something's Not Right, Just Ask
5 Secrets to a Perfectly Balanced Weekend
How to Deal With Secrets in Marriage
Throwing a Pity Party Is Bad for Your Marriage!
Why Is My Spouse Shutting Me Out?
Overcoming the Warning Label on Your Spouse
Ready, Aim, and Fire!
The Secret Power of Letting Go When You Want to Hold Tighter
Is Self-Doubt Ruining Your Friendships?
How to Deal When Your Friends Get Divorced
Are You Gorging on Cheap Communication?
What to Do When Your Needs Aren't Getting Met in Marriage
Words or Deeds: What Says, 'I Love You' Best?
3 Tips to Surround Yourself with Positive People
How to Embrace the Choices You Make
The Art of Listening: 8 Tips to Help You Truly Hear Others
5 Business Tips for a Successful Marriage
How to Prevent Indecision From Dragging Your Marriage Down
Thrive: 13 Tips To Organize Your Life
Finding and Understanding Acceptance
With Caution: Becoming Friends with New Couples
3 Tips to Embrace Forgiveness in Marriage
4 Things Couples Should Expect in Counseling
The Significant Value of Emotional Endurance
Find the Right Marriage Counselor: 10 Questions to Ask Before Booking an Appointment
10 Warning Signs Your Marriage Needs Couple Counseling
Finding Peace in Our Marriages
9 Ways to Love Yourself This Valentine's Day
Let Valentine's Day Inspire Your Marriage To Get Back On Track
Why Little Daily Rituals (Not Valentine's Day Gifts) Make Your Marriage Stronger
A Unique Valentine's Day Present: Patience
Five Love Laws to Embrace This Valentine's Day
How to Get More Out of Valentine's Day
5 Exercises that Make Marriages Stronger
A New Way To Look At Resolutions: Evolve
10 Myths About Emotion and Marriage
How to Guarantee a Safe and Stable Marriage
How to Keep The Relationship Fire Burning
3 Tips to Make 2014 the Best Year Ever for Your Marriage
Year of the Quitter: Stop These 12 Habits to Make 2014 Your Best Yet
Creating a Better Marriage for Tomorrow with 4 Simple Questions
The Real Reason Resolutions Fizzle
What It Takes to Stop Bickering and Stay Connected Through the Holidays
The Morning After: How to Resolve an Argument on Christmas Morning
'Tis the Season for Excess: 7 Areas You Shouldn't Overindulge
8 Top Tips for De-Stressing During the Holidays
4 Basic Principles to Prevent Holidaze
How to Get Through the Holidays Without Losing Your Mind
5 Tips to Help Moms Avoid the Holiday Blues
Stop Falling: Learn How To Live In Love
How to Avoid Conflict with These 5 Traditional Holiday Grinches
A Holiday Season After the Loss of a Loved One
When Too Much of a Good Thing Sours a Marriage
6 Simple Ways to Develop Courage
Using Negativity as a Positive Reinforcement
The Laws of Feeling Happy
How to Create Great Communication with Your Spouse
What Keeps Marriages Together? It Depends on Your Gender!
What Is a Solution-Focused Marriage?
How To Turn A 'Need' Into Something More
Enlightened Self-Consciousness: A Warm Homecoming
Holiday Obligations: Decide When Enough is Enough, Say 'No' This Year
4 Practical Solutions to Make Your Second Marriage Fabulous
3 Questions to Awaken Your Capacity For Life
The Remarriage Blueprint
5 Ways to Turn Marriage Problems into Marriage Solutions
How To Be Happily Married
9 Ways to Beat the Post-Labor Day Blues
You Don't Have to Live Your Spouse's Dream
7 Ways to Accept Your Spouse Just As They Are
Uncovering the Unknown
5 Ingredients to Maintain a Great Marriage
Why Isn't All This Good Advice Working For You?
What To Do If Your Spouse Tunes You Out?
Marriage: Remember the Good Times to Get Through the Bad
Understanding Your Anger: Are You Reacting or Choosing?
Miscommunication: When What You Say Isn't What You Mean
How to Handle Loss as a Couple
3 Dangerous Tactics That Could Destroy Your Marriage
The Benefits of Conflict in Marriage
Making Your Marriage and Life, Meaningful
11 Ways to Say 'Thank You' This Father's Day
What Dads Really Want For Father's Day
5 Common Obstacles Newlyweds Face
10 Positive Opportunities to Come From Self-Doubt
Affairs: Beating Flame Addiction
Affairs: The Flame Addiction
Affairs: The Relationship Between Infidelity & Addiction
Moving Forward From A Painful Past
8 Ways to Make Your Marriage Juicy!
The Danger of Micromanaging Your Spouse
Learn to Stay in Control Instead of Jumping to Conclusions
Weeding the Relationship Garden
Don't Be a Marriage Martyr, Act With Loving Intent
5 Ways to Become Your Spouse's Best Friend
How To Stop Expecting the Worst
Gardening Your Marriage
Saying 'No' to Self Rejection
Take Back Your Power, Don't Apologize!
Making Your Marriage Easy
The Importance of Valentine's Day
Learning to Deal With Difficult Emotions on Valentine's
5 Ways to Deal with Your Valentine's Annoying Behavior
New Valentine's Day Tradition: Strengthen Your Love
The Way To Your Heart's Desire
Adding Value to Your Marriage
Changing Your Husband's Bad Habits
The 6 C's That Make Marriage Easy
The Day After Christmas: 5 Ways to Handle the Biggest Downer of the Year
Unwrapping the Perfect Holiday G.I.F.T.
Playful, Creative Solutions to Beat Family Dysfunction During the Holidays!
Christmas Traditions: Should You Break the Yearly Tie?
Improve Your Marriage By Letting Go of Fear and Pain
The Best Ways to Compliment Your Husband and Wife
Can Dirt Be Good For Your Marriage?
Declaring a Truce at the Holiday Dinner Table
The Importance of Keeping a Healthy Balancing Act
Lessons on Forgiveness
Rid Your Marriage from Childhood Ghosts
Surviving Football Season, Together
Can Positive Thinking Be Harmful?
How To Develop Character
How to Avoid Boredom in Your Marriage
Making It Through Troubled Times, Together!
Marriage Exercise: 10 Things I Love About You
The Power of Letting Go
Taking Your Marriage Back to the Future
The Power of Resilience In Your Marriage
3 Steps to Help Your Husband Build Integrity
Wanting More Than Just an OK Marriage
The ABCs of Good Communication with Your Spouse
6 Ways to Build Trust in Your Marriage
5 Qualities Your Husband Finds Irresistible
Simple Facebook Etiquette Everyone Should Know
Letting Go Of Control
10 Secrets That Destroy Marriages
Overcoming the Ineffectiveness of Multitasking
The Secret Meaning of Anger in a Marriage
'I'm Sorry:' Expressing Regret the Right Way
The 5 Best Things to Say to Your Husband or Wife
7 Secrets to Make True Romance Last
Making Change Begins With You
Investing in Your True Self… If Not Now, When?
Marriage at a Crossroads? Take 5 Steps to Reconnect
5 Marriage Myths Exposed
Trusting Yourself in Marriage
How to Tell if Your Friend is a Seducer
The Number One Cause of Relationship Ruin
You Really Are What You Eat
Don't Let Shame Subvert Your Marriage
5 Must-Do Secrets for a Healthy Marriage
What Happy Couples Do Differently
Fighting Fair: The Rules of Engagement for Love and War
Common Symptoms of Communication Breakdowns in Marriage
A Marriage-Saving Tip on Making Decisions
Lessons Learned from Challenged Marriages
Balancing Nice and Assertive Personalities in Marriage
New Year's Resolution Tips that Really Work
13 Ways to Add Fun and Adventure to the New Year
Curing Holiday Loneliness
How to be Happy When the Holidays Are Over
Downsize: Let Love Blossom by Letting Things Go
4 Male Myths Debunked
7 Ways to Release Anger Out of Your Body
12 High School Reunion Etiquette Tips
How to Focus On The Positive
Struggling for the Perfect Anniversary Gift
Marriage Boot Camp - Week 3: The Strength in Real Communication
Get Enthusiastic About Your Marriage
Marriage Boot Camp - Week 2: Flexibility and Stretching Your Boundaries
Marriage Boot Camp - Week 1: Revitalizing Your Thinking
Worried Wife is Home Pregnant, Husband Gone Fishing
How to Motivate Your Spouse
8 Things to Keep From Your Husband
The Dark Side of Divorce
Enabling Versus Helping Your Spouse
Saying "No" To Selflessness
How To Get Where You Want To Go
Are You Compatible with Your Spouse?
Train Your Brain To Be a Better Spouse
What to Say to a Military Spouse
How Active Listening Can Deepen Your Marriage
Why Women Are More Prone to Depression Than Men
The Difference Between Approval and Love
Why Genders Differ on Household Chores
Creating Your Own Rules for Marriage
The Fear of Love
Can Married People Have Opposite Sex Friends?
6 Research-Proven Habits for Happy Marriages
Stop Giving Advice!
Mentally Prepare to Improve Communication with Your Spouse
Understanding and Resolving Conflicting Goals in Marriage
Avoiding 6 Common Reasons for Having an Affair
Maintain a Solid Marriage by Being Silly
Chipping Away to Reveal Love in Marriage
Patching Holes in Your Marriage
How to Handle Argumentative Couples
30-Second Love Tips
4 Ways to Add Spontaneity to Your Marriage
Breaking the Same Argument Cycle in Marriage
How to Handle a Friend's Divorce
How to Talk Less to Get What You Want
Tips to Becoming a Great Communicator in Your Marriage
How to Respond Proactively to Negative Situations
Answering Valentine's Day Questions
Taking Control of Expectations
Listening To Your Intuition
16 Courtesies That Say "I Love You" Without Saying a Word
Why Crying is a Turnoff to Your Husband
Break Free from Self-Pity!
Setting the Tone for the First Year of Marriage
7 Tips for Creating a Harmonious New Year
How to Create the Holidays You Want
6 Steps to A Happier Holiday Together
Fixing Communication Issues in Your Marriage
How Positive Language Affects Marriage
How to Stop Pointing the Finger
How to Say "No" During the Holidays
The Importance of Gratitude in Your Marriage
Living Your Own Life
Why Empathy Really Matters
Finding An Emotional Connection With Your Spouse
Considerations if Deciding to Stay or Leave Your Marriage
4 Ways to Change Your Perspective on Negative Events
Teach Your Children: 2. How to Discuss Difficult Subjects—Specifically Money
Why Your Marriage Needs Energy To Grow
How to Create Positives from Negatives in Marriage
Is Technology (Especially Texting) Ruining Your Marriage?
Spark Your Marriage with Teenage Love
Simple Steps to "Decorate" Your Marriage in Your Style
Avoiding Clashes With the In-Laws
5 Ways to Fix an Unaffectionate Spouse
The Myth of the Perfect Marriage
How To Communicate What You Are Saying
5 Relationship Skills to Teach Your Children: 1. Behavioral Changes
How to Change Your Husband Back into the Man You Married
7 Signs of a Failing Marriage
View Your Marriage From All Angles
How to Preserve Love and Passion in Your Marriage
How Marriage Counseling Can Help, Now!
How to Predict a Cheating Spouse
5 Happiness and Health Lessons for Couples
Overcome the Curse of Your Spouse's Perfectionism
Building A Compassionate Marriage
Making The Right Decisions in Marriage
Releasing the Negative from Your Marriage
Are You a Controlling Wife?
3 Things to Consider Before Divorce: 3. The Emotional Toll
Overcome Jealousy in Your Marriage
The Rules of Unconditional Love
5 Tips to Increase the Fun in Your Marriage
6 Ways to Create a Strong and Healthy Marriage
Overcoming Personal Fears in Marriage
How to Mend the Gap in a Disconnected Marriage
Building a Strong Marital Foundation for Life
5 Signs You Don't Fight Fair in Your Marriage
Successful Marriages Start With Relationship Mentors
Make This Year's Valentine's Day Experience Unique
Dealing With Husbands Who Forget Valentine's Day
5 Ways to Beat Valentine's Day Stress
Perfect Valentine's Gift: Listening with Your Heart
Understanding Your Spouse's Needs and Wants
Cleaning Up Your Marriage
3 Common Marriage Myths Busted
3 Steps to Make Resolutions Stick
6 Ways to Cheat-Proof Your Marriage
3 Things to Consider Before Divorce: 1. The Financial Picture
The Importance of Apology in Marriage
New Year's Resolutions for Your Marriage
9 Ways Couples Must Agree
Holiday Thank You Note Etiquette
Working Together with your Spouse
3 Things to Consider Before Divorce: An Overview
Use Monologing to Save Your Holidays
A Sure Cure for Holiday Stress
Creating a Spouse from Scratch
Should You Give Your Spouse an Ultimatum?
Dealing With Tragedy
Marriage Etiquette 101
Stopping Fights Before the Holidays
Communicate More Effectively with Proper Body Language
The Importance of Adult Play
Ditching the Negativity In Your Marriage
Understanding Your Spouse's Point of View
5 Ways To Regain Love In Your Marriage
How To Solve Your Marital Problems
Don't Talk Trash About Your Spouse
How To Avoid the Post-Wedding Blues
Why Marriages Need Support After A Spouse Comes Out of Rehab for Alcoholism
Getting Your Husband to Take Responsibility
Building A Strong Family Bond
How To Make Your Spouse Feel Loved
Knowing the Truth About Yourself
5 Warning Signs Of E-Infidelity
Avoid Infidelity by Sharing Everything with Your Spouse
Taking Worry Out of Your Marriage
7 Tips For Dealing With An Affair
The 10 Commandments of Marriage: 10. Make Special Time for Yourself
Get Your Spouse to Appreciate You
How to Protect Your Marriage from Gossip
How To Get Your Spouse To See A Therapist
Is Your Marriage in a Recession?
7 Simple Tips to Communicate Effectively with Your Spouse
Coping With an Out-of-Work Husband
Avoid Panic In Your Marriage
How to Increase Emotional Attachments in Your Marriage
7 Powerful Ways to Make Your Marriage Last
Commandment 9. Develop Mutual Interests
Connect With Your Spouse Through Empathy
Reaching Compromises on In-Law Issues
Building Emotional Connections in Your Marriage
A Quick Guide To Happiness
Don't Be a Party Pooper In Your Marriage
Staying Committed and Keeping That Spark Alive!
Commandment 8. Resolve Arguments One Issue at a Time
5 Tips For After-Wedding Obligations
8 Tips to Spring Clean Your Marriage
7 Tips to Finding the Right Marriage Counselor
Putting Your Spouse Before Your Parents
Tips To Resuscitate Your Marriage
Is Going to Bed Angry Bad for You?
5 Steps for Letting Go of Hurt in Your Marriage
Is The Honeymoon Over?
Being Independent and Together
Movie Madness
The 10 Commandments of Marriage: 7. Praise Your Spouse
Commitment and Your Spouse
Making Your Marriage Last
Attachment Isn't Really Bad
Free Gifts for Valentine's Day
Don't Let Stress Steal Your Heart Away
What Really Matters On Valentine's Day
Taking Action With Love
5 Ways to Beat Valentine's Day Stress
A True Valentine's Day Gift
Writing Your Own Love Story
Directions for Men on Valentine's Day
How to Brighten the Winter Blahs
The 10 Commandments Of Marriage: 6. Leave The Baggage At The Door
Fast, Simple Ways To Improve Your Marriage
Getting Along With The In-laws
The Most Important Argument You'll Ever Have in Your Marriage
Keeping Intimacy In Your Marriage
5 Ways to Make Your Marriage Stronger
Enhance Your Relationship Through Rituals
The Pressure of Resolutions
The 10 Commandments of Marriage: 5. Don't Expect Your Spouse To Be a Mind Reader
Starting Fresh: A New Year for Your Marriage
20 Tips for the New Year
How to Replace Holiday Fighting with Loving
Commonly Asked Holiday Gift Giving Questions
Spreading Holiday Cheer
How to Guard Against Resentment-Buildup with Your Spouse
5 Tips for Being a Great Spouse During The Holidays
Fending Off Family Feuds During the Festivities
Holiday Party Guide
Tips For A Stress-Free Thanksgiving
6 Tips for Resolving Your Thanksgiving Hassles
Use Your Differences as Relationship-Builders
The 10 Commandments Of Marriage: 4. Argue Constructively
Argue with Your Spouse the Right Way
Rejuvenate Your Marriage by Renewing Your Vows
The Pull of the Familiar
How Strangers Can Improve Your Marriage
Commandment 3: Make Dates With Your Spouse
Intuition and Infidelity
How To Say "I Love You" Without Uttering a Word
Improving on Yourself
Helpful Phrases for Political Arguments in Your Relationship
How to Grow the Love in Your Marriage
3 Tips for Making Marriage Last Forever
Save Your Marriage By Taking Time For Yourself
8 Ways to Keep It Fresh
The 10 Commandments of Marriage: 2. Communicate With Your Spouse
How To Be a Happier Person
How to Complain with Grace
A Woman's Intuition: 8 Ways to Open the Door
Brick Walls Stop Intimacy
What To Do When The Honeymoon Is Over
The 10 Commandments of Marriage: 1. Prioritize Your Partner Over Everything
Friendship First, Lovers Second
13 Ways to Keep Your Husband Happy
Living a Life on "Autopilot"
7 Warning Signs of a Troubled Relationship
Fixing A Wrecked Relationship: It's Easier Than You Think!
Write Letters to Work Out Arguments
Coffee Shop Class
Open the Door to Your Differences
Control Battles In Your Relationship
Clearing the Air
Chivalry At The Pump
14 Ways To Keep Your Wife Happy
Do You Know Your Spouse's Dreams?
Salvaging A Broken Relationship
Wired to Connect
Let Out the Anger
The Fallacy of Control
Reconcilable Differences
Mind of a Married Man
It's Not Too Late for a "March Madness" Party
Creating An Easter Basket for Your Spouse
All You Have To Do Is Ask
How Well Do You Really Know Your Spouse?
Strengthen Your Marriage
The Power of Communicating
The 5 Percent Resolution
Take Charge of Your Own Happiness
The Gift of Presence