Joyously Coping With an Empty Nest

Why the empty nest reality is much less glum than the myth.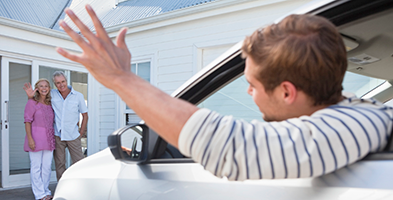 Youíre supposed to feel weepy, forsaken and bereft. And maybe you do. Sometimes. Some days.

However, many parents are realizing that they also feel exhilarated, freer and, yes, sexier, when their kids grow up, leave home and go out on their own. It might be an empty nest, but thereís no "syndrome." At least, not in the negative sense. Thereís no malady about it. Itís more like a club whose members are secretly celebrating having more quality time alone with their friends and with their spouse.

Magazine articles and TV doctors still tend to focus on "coping" with this midlife transition, and the identity crisis they say could lead to depression, alcoholism and divorce. But research reveals an empty nest can actually reduce stress and family conflicts.
---

MORE ARTICLES
Family Fun: Playing Neighborhood Elf

Start a new family tradition by picking a home in your neighborhood and delivering a secret elf surprise leading up to Christmas. Here's how.
7 Tips to Survive the Holidays (In-Law Tips Included)

Tips that will have you and your spouse navigating this holiday season like true pros.
4 Compromises to Survive the Holidays with Your Spouse

Making it through the holidays doesn't need to be a struggle. Find compromise with these tips.
The Art Of Becoming Santa

There's a Harvard of Santa Schools and hundreds show up each year to learn the art of spreading Christmas cheer.
Tough Talk: Taking Car Keys Away from Elders
10 Things Dads Wished Their Wives Knew About Parenting
A Fatherís Day Tribute from a Genetic Disorder Warrior
Do Pets in the Bed Help or Hinder Sleep?
Coping With Tension Among Relatives
Belonging to the Change of an Empty Nest
5 Tips to Make a More Relaxing Vacation
How to Host a Memorable Easter Dinner
7 Important Reasons to Eat Dinner as a Family
Raise Happier Kids by Making a Happier You!
7 Simple New Holiday Traditions
Holiday Family Conflict: Doing it the Same or Changing It
Helping Your Parents Survive The 'Silver Tsunami'
Dig In! Tips for Gardening with Your Kids
8 Tips for Managing In-Law and Family-Related Holiday Stress
Interview: Cristina Ferrare On Raising Caring Kids
Starting a Family Holiday Tradition
How To Deal with Passive-Aggressive Behavior From Your In-Laws
Help Your Child Persevere
4 Ways to Make Motherís Day Meaningful
7 Tips for Celebrating the Moms in Your Life
7 Strategies to Help Parents Balance Their Life
Can Your Marriage Survive the Truth of Adoption?
Making In-Laws Follow Your Rules
How to Survive a Family-Style Holiday Vacation
7 Etiquette Tips When Spending Thanksgiving With the In-Laws
Helping Your Spouse Cope With Loss
Should You Remove Pictures of An Ex
4 Secrets to Gaining the Respect of Your Spouse and Stepkids
Busy with Kids? 5 Ways Moms Can Still Grow
10 Ways to Help Your Kids Do Better in School
Interracial Marriage: Meeting the Parents for the First Time
Other Mothers: Being a Better Stepparent
Take the Loneliness Out of the Holidays
Tips to Schedule "Me Time"
Do You Have Monster-In-Laws?
Consideration When Choosing a Family Pet
Helping Your Spouse With the Emotions of a Passing Parent
Improve Kids Grades: Eat Dinner as a Family
In-Laws Say Daughter-in-Law Is Not Family
The Importance of 'Me' Time for Moms
Avoid Future Marriage Strain by Having a Plan for Aging Relatives
Dealing With a Meddling Mother-in-Law
How to Make In-Law Visits Better
My Spouse is Too Close to Their Parents
How to Be Assertive with Your In-laws
4 Tips for Dealing With an Overbearing Mother-in-Law
Daughter-in-Law Acting Disrespectful
6 Tips to Get Your Teen Talking
How to Successfully Handle Religious Differences with Your Spouse
7 Tips for Managing "In-Law Stress" During the Holidays
How to Protect Your Wife from Your Parents
5 Tips for Making Holiday Plans as a Couple
Understanding the Mother-in-Law, Daughter-in-Law Dynamic
How to Budget Your Family Time Wisely
Dealing With an Intrusive Mother-In-Law
Things Couples Should Consider Before Having A Baby
Dealing With 3 Common (Difficult) In-Law Scenarios
How New Moms Can Cope with Intrusive In-Laws
Dealing With In-Laws Who Ask for Money
12 Reasons to Treat Your Spouse Like Your Beloved Pet
A Newlywed's Guide to Navigating In-Laws
Father's Day Barbecue Etiquette
Top Family-Friendly PS3 Games of 2010
Motherís Day Tips for Husbands
5 Things To Consider Before Starting A Family
How to Grow Joy Out of Family Stress
Choosing an Expert Thatís Right for Your Family
A Resolution to Be a Better You
Home for the Holidays Etiquette
The Best Family-Friendly Wii Games of 2009
Surviving Holiday Guilt Trips from Parents and In-Laws
Breaking from Holiday Traditions
Holidays with the In-Laws: Tips for Resolving Marital Conflict
5 Ways to Deal with Strained Family Relationships
Guide to (Scary) In-Law Types
Take Sides with Your Spouse Over Your Parents
The Value of Volunteering
5 Ways To Protect Your Marriage From Toxic In-Laws
Resolving Common Conflicts of Blended Families
4 Secrets to Building a Stronger Child
The Secrets of Happy Families
Our Interracial Marriage
Tips To Keep Your Children From Sexting
Lessons Learned from Your Kid's Sports
Modeling a Good Marriage for Your Kids
Anger in Your Marriage?
Drawing Boundaries with Difficult In-laws
Top Family-Friendly Wii Games for 2008
Kids' Birthday Parties You'll Enjoy
Going Green This Summer
Online Tools to Organize the Family
How to Start a Family Blog
The 10 Commandments of In-Laws
Valentineís Day for Two
Keep Your New Yearís Fitness Resolutions
Planning the Perfect Holiday Bash
Gifts for the Whole Family
6 Steps to a Stress-Free Holiday Season
Jealous of Success
Spoiled Rotten
Sane For The Holidays
Get Ready for Winter
Halloween Gone Awry
Death of an In-Law
Pet-Obsessed Spouse
How to Deal With a Child Who Acts Out
Working Couple's Problem Child
School Jitters
Top Family-Friendly Wii Games
9 Evening Activities
6 For The Fourth of July
6 Cheap Family Activities
Summer Fun With the Kids
8 Great Family Vacations
Keeping the Kids in Line
Looking For A Marriage Counselor
10 Spring Cleaning Tips
Keeping Up With the Joneses
In-Laws Are Bad Influence
Spouse To Go
Losing My Religion
Facing Illness
Operation: Adoption
Holiday Hangover
One-Sided Argument
Gift Ex-Change
Holiday Hosting
Mr. Mom?
Keeping Mum
Dad vs. Superdad
Relative Support
Disciplining Differently
Help, Iím a Stepparent!
Kid-Free Anniversary
Dealing With A Miscarriage
Sometimes, Three's a Crowd