About Sara and David:
When Sara Wilson got laid off from her job as staff writer at a national magazine, a week after her husband, David Fernandez, lost his job as a private chef, the two took it as a sign that it was time for a change. Within two months, they had packed up their apartment and traded the hustle and bustle of New York City for a calmer life of sun and sand in David's homeland: Spain. Not only did the idea of living along the Mediterranean sound appealing, but there was an opportunity to join in on a family business that they just couldn't pass up. Things haven't gone quite as planned, but such is life. Follow along as they explore a new country and confront new challenges - all while learning about each other in the process.
Wishing on a Star

Sara and David wrap up the chaos of summer and look to the stars for a little help.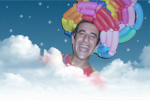 Ever since late winter, early spring, our friends, Warner and Pepa, have been telling me about the night of August 12th. It was a night not to miss, they said, when hundreds of shooting stars could be seen. They had witnessed it in years past and told of the spectacular sight that they had seen. Expectations high, I waited all summer for that day when we would be able to make hundreds of wishes upon the stars. And when August 12th finally arrived, David and I rushed the last lingering customers out of AlteArte so we could see for ourselves what we had heard so much about.
What Goes Down Must Come Up

The adventures at AlteArte continue when things don't always go the way Sara and David hoped. In those times, it's best to take a step back and recalibrate.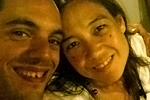 In order to appreciate the good things in life, you have to experience the bad. In order to enjoy the highs, you have to endure the lows. Five months in and we've had our highs and lows, our good days as well as our bad.

We've had unexpected incidences that have thrown us off course for a day or more. Like the day that I arrived to open AlteArte, only to be met with a funny smell when I opened the door. Heading upstairs to the stock room, I was alarmed to find liquid on the floor at the entrance. My alarm turned to horror when I opened the door only to be greeted by a floor of broken bottles.
Couplehood Chronicles: It's Hard to Say Goodbye

Sara struggles with the departure of her friends.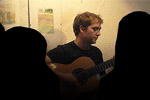 The great thing about Altea, Spain is that it's so small that you see the same people again and again. Those familiar faces become comforting faces, and before you know it, they have become your friends. The difficult thing about Altea is that it can be transient at times, especially when the art university lets out for the school year and the students leave—some just for the summer but others for good.

For the past several weeks, we've been saying goodbye as one by one the students disperse. It started with Aga.
365 Days of Writing

Sara thanks you, the reader, for all your support in following the first year of her adventures in this column.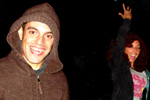 One year ago I published my
first post
and officially launched my first blog. I didn't know what to expect, and, to be honest, the whole concept of a blog was rather foreign to me and something that I never thought I would do. My attitude about blogs at that time was that it was an outright egotistical thing to do, to even assume that people would want to read about my life. Yet, I was on the brink of an exciting adventure and even if no one visited my blog, I wanted to keep a personal record of what happened along the way, so I started to write.
Couplehood Chronicles: Fledgling Business

David and Sara deal with the less glamorous side of owning a business.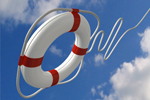 Little sleep, not much free time, lots of cleaning and a significant amount of sacrifice. As I expected, starting a business is similar to having a baby, but it wasn't until my good friends from London arrived with their nearly 3-month-old son (only days younger than our bar AlteArte in Altea, Spain) that the resemblances really struck me. Sure, they are having to physically adjust to a different schedule, but beyond that they are having to learn how to communicate with each other in an entirely different way and that's what struck me most and got me thinking about how their situation so closely parallels ours.
Money Problems

How Sara's frugal ways all changed when she moved to Altea, Spain.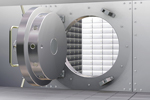 I have a problem with money. My problem, though, is not that I'm reckless with it, that I go on shopping sprees or that I spend beyond my means. On the contrary, I hate gambling, I could care less about shopping, and I only use credit cards to collect points—which I later trade in for cash. My problem with money is not that I spend too much, my problem is that I have don't like to spend any at all.

I don't know how or when I became so painstakingly conscious of money. Growing up, I had everything that I wanted or needed, so if anything, I should have grown up to value each dollar less.
Couplehood Chronicles: Mi Cumpleaños

Sara turns 32 and gets a great surprise from her husband and community.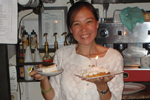 When I turned 18, my sister surprised me with a white water rafting expedition. In honor of my birthday, my parents, brother, sister and I all piled into the six-person raft and hoped for tame waters. Nature didn't quite obey my wish and barely had we hit the first rapid when everyone was thrown into the water except for the guide, my mom and me.

For my 30th, my sister once again planned a surprise outing. That year, we set out for a 4-hour horseback ride high up into the mountains north of Santa Barbara, CA.
Family Ties

Sara reflects on being away from her family, but gets some quality time with them. Of course, not without a few curveballs.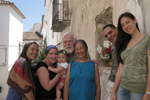 When I was 7 years old, I went to summer camp. It was only for a week and it should have been fun, but ended up being one of the most traumatic experiences of my life because I missed my family dearly. My homesickness was so intense that I cried constantly—walking to the lunchroom between activities, before going to bed—and I look back now and wonder how in the world no one took pity on me.

During that week-that-felt-like-a-year, the only bright spot of each day was after lunch when we'd stand around in a circle for mail delivery. My parents wrote me religiously
Thieves, Cops and Customer Relations

Sara and David find out that not all customers are created equal once the cops show up and things start disappearing.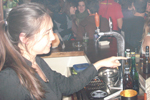 When David and I first opened AlteArte's doors for business, we didn't care who came through the door—we just hoped for customers. As long as there were people, we'd be happy, we assumed. However, two months in—after several visits from the police and even an incident of theft—we've already learned an important lesson: not every customer is a good one to have.

The first Thursday that the students came out in droves, we felt fortunate that AlteArte was their destination of choice and we welcomed their business and even offered a discount on the shots to encourage them to stay.
An Unlikely Prediction Comes True

Sara's days as a waitress have come full-circle, only this time she's just a little bit more prepared.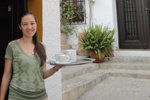 My mom recently came across an assignment that I had done in the 2nd grade. The sheet was tucked away within the pages of a scrapbook lain forgotten in my parents' home for many, many years. Following instructions from my teacher, I had drawn a picture of myself and had made two predictions of what I would be when I grew up and what I would be doing in 2010, specifically. At the age of 7, I guessed that in the year 2010, at the age of 31, I would either be a cheerleader or a waitress. Incredibly, I was right-on with one of those predictions.
AlteArte: Defining Our Business

Sara and David find that owning a bar means more than just being a local watering hole.
Physical Adjustment of Starting a Business

The long hours of starting a business are beginning to take their toll on Sara and David.
Tapping Into the Local Scene One Drink at a Time

Sara and David's new bar, AlteArte is gaining a lot of attention and proving to become a real staple to locals and tourists.
AlteArte is Officially Open for Business

AlteArte is open for business and making a big impression on the people, and art students, around it.
Ready or Not, We're Open for Business

AlteArte is open for business as Sara takes a crash course in being a Spanish server.
Couplehood Chronicles: Business Renovation
Staying the Course
A Business Miracle Happens
Looking for a Business
A Leap of Faith
Becoming Altean
At the Top of My Class
A Matter of Time
Three Kings Day Rule Over Santa
All I Wanted for Christmas...
Home Alone
We Find Closure And Give Thanks
The Landlord Cometh
Of Mice and Men
A Look Back Helps to Move Forward
Moving Forward
The City of Lights Beckons
Making Life a Success, One Crepe at a Time
Broken Down in Spain
Harvest Time In Spain
A Run-In With Luck and the Law
Rainy Days in Spain
Traveling to New Worlds
The Roads Not Taken
Tales from the Grave
We Meet the Nightclub Pimp
The Last Supper
I Feel Sick to My Stomach
Growing Pains
It's a Grand Paella Affair
New Life, New Name
Baby Talk
We Find Gizmo and Celebrate Six Years of Marriage
Business…With a Twist
I Got My NIE!
First Impressions of Spain
How I Got Here
---
More Couplehood Chronicles