Valentine's Day for Two
Make Valentine's Day special for the both of you by doing what the other loves to do most.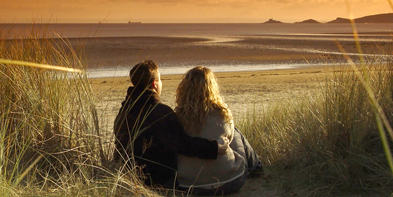 ---
Valentine's Day is fanatically marketed. So many ads convey the message, "Buy this for your husband or wife and they will love you forever." All reasonable people realize that buying anything for anyone would never garner such commitment. And often, what our spouses want can't be bought or doesn't cost much.

Ladies, Valentine's Day isn't always about us. This Valentine's Day, how about taking some time to show our husbands how much we love them. Give them what they want. Well, what is that? It changes for every man but I'll give a few examples. My husband loves to cook (dear God, I've given away one of his man secrets), but grating nutmeg is murder on those big knuckles so I bought him a nutmeg grater. I also bought him a beer opener that plays commentary on Pittsburgh Steeler's games when you open a bottle.

The point here is to show your husband that you know him and that even if something is silly to you—especially if something is silly to you—you'll give it to him to show you respect and love him. A day on the sofa with beer brought to him, football 24/7, a foot massage or whatever makes him happy. Giving really is receiving.

Gentlemen, taking your wife out for dinner is always nice, but it's especially so when you arrange the babysitter, make the reservations and don't ask, "Where would you like to go? What would you like to do?" My husband is prone to leaving me small messages around the house where he knows I will find them. He uses little plain cards and writes a sentimental or funny quote on them. The last one he left me by writer Ashleigh Brilliant said, "I could do without many things with no hardship—you are not one of them."

Men, I can't tell you how far this will go with your wife. Most men wouldn't be caught dead uttering something like this and my husband is no exception. The point here is he knows what I like and he gives it to me on regular days and Valentine's Day, too. (He also throws in the lingerie he loves!)

Take this month and acknowledge your loved ones with the little things. They are the people who make everything in life more beautiful and worthwhile. Show them you care by letting them know you appreciate who they are.

Angela Gala is principal with Rogers & Gala Creative Partners, a firm that plans parties, weddings, and special events nationwide. She can be reached through her website www.rogersandgala.com.


---
---
---
Leave a Comment