Top Family-Friendly Wii Games for 2008
A round-up of the hottest Wii games for 2008.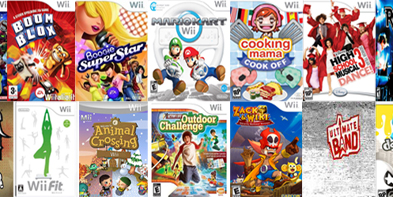 ---
**UPDATE: Check out The Best Family-Friendly Wii Games of 2009**

Last year we took a look a the best of the first-generation Wii games (click here), and now that Nintendo's coolest console is widely available, there has been an explosion in great games the whole family can enjoy. Once again, we spoke with Jeff Gerstmann, editor-in-chief of game review site GiantBomb.com to get the lowdown on the best games to buy this year. Whether you're into the hottest crop of music games, want an innovative way to stay active or just want some classic console fun, we have a game for you.

Active Life Outdoor Challenge


$59.99
An active family favorite, Outdoor Challenge gets everyone up and moving, whether it's running and jumping, steering a mine cart down a shaft or paddling a kayak downriver. The game comes with a mat controller, which unfortunately isn't yet compatible with any other games, but if you're looking for a fast-paced game that'll really make everyone sweat, this is a great option.

Boom Blox


$39.99
This brain-twisting puzzle game with more than 300 levels is a collaboration between Electronic Arts and Steven Spielberg. A great game for almost everyone, it's fun and it gets you thinking. Plus, throwing giant bowling balls at mountains of blocks and watching them explode is just fun. For those with a more creative side, you can also design your own levels and extend the game even further.


Guitar Hero World Tour and/or Rock Band 2



Both $49.99+
These music games let you channel your inner rock star and form a family band, and are best for teens and adults. Though these games have bulky controllers—guitars, drums and microphones—they're well worth the space because these are two of the best group games available. The song lists feature plenty of favorites from classic to alt rock and can be added to from online purchases, and the difficulty range goes from easy to expert.




Ultimate Band


$49.99
If you're searching for a music game without the big and pricy accessories, Ultimate Band is it. Using only your Wiimote and nunchuck, you can play the lead guitar, bass guitar, drums and front man parts. The game includes more than 30 songs from artists like The White Stripes and Weezer, and though it isn't quite as addictive as Rock Band or Guitar Hero, it's a good alternative.





Zack & Wiki: Quest for Barbaros' Treasure


$39.95
Go back to some classic PC-style adventure gaming with this critically acclaimed one-player pirate game. Instead of a traditional running-and-jumping console game, you explore your environment, pick up objects and the whole family can put their heads together to solve puzzles. The puzzles are intelligent and get harder through the game, and you have to really test your critical thinking to figure out how to get past each obstacle.




Animal Crossing: City Folk


$49.99
This charming, relaxed-pace, no-goal game is as addictive as The Sims, but cuter. You move into a town, interact with its animal residents, and do things like decorate your home, go fishing and trade turnips on the stock market—there's always something to do, and you direct the story. It doesn't have a multiplayer mode, but up to four players can live in the same city and you can leave messages and gifts for other players. There's also an online component where you can play real-time with people on other Wii consoles.



Super Smash Bros. Brawl


$49.99
One of the most popular Wii games of the year, this fighting game is an addition to the long-running Super Smash Bros. Nintendo series. It does have some violence, but it's all in cartoon form, and it's not bloody—basically, you're pitting various video game characters against each other in fights, from Mario to Pikachu. It's easy enough to pick up quickly, but it has layers of depth so you'll get better as you play. It's best for households with teens.




De Blob

$49.99
In this color-focused game, you're tasked with saving Chroma City from a future without color by flipping, bouncing and smashing your way past your gray enemies. There is a story-driven single player mode, as well as multiplayer modes for up to four people where you do things like race to paint the town in your Blob's color. The animation is cute and the activities are interesting, but if anyone in your family is colorblind, they'll have a tough time with this one.




Cooking Mama: World Kitchen


$49.99
Your task is to cook 50 different recipes, and if you make mistakes, you can redeem yourself by playing quick-paced mini games, like bringing Mama in to catch a pancake in her apron. These quick, goofy mini games use the Wiimote in innovative ways and provide for some goofy Japanese fun. World Kitchen sets itself apart from the older Cooking Mama games with upgraded graphics and better integration with the Wiimote.




Wii Fit


$89.99
Wii's most popular fitness game gets you up on a Balance Board to take you through low-impact exercises like stretches, yoga and simple strength training. It also offers an array of balance games, like slalom skiing and tightrope walking. But beware, as one of this year's hot sellers, you may not be able to find it in stores, and Gerstmann warns not to get ripped off by paying more than sticker price. Wait until after the holidays to buy this one if you need to.



Mario Kart


$49.99
Best for families with young children, this Nintendo classic is still fun for all. Though it's not necessarily the best Mario Kart iteration and the Wiimote isn't as accurate at steering as you may like, little ones will get a kick out of the plastic steering wheel, and the nostalgia factor will rope you into this classic cartoon racing game.



High School Musical 3: Senior Year Dance


$49.99
If you've been bopping along to High School Musical 3 with your kids, this game will extend the fun with its dance mat and hand motions you can do with the Wiimote. You play as characters from the film and can play head-to-head with another player. Your kids will like this more than you will, but you'll still enjoy your turn at the mike.





Boogie Superstar


$59.99
If you're looking for a dance game without a special mat, Boogie Superstar keeps things light with just the Wiimote and a microphone. It's aimed at tween girls with songs from artists like Britney Spears and The Jonas Brothers, but you should find at least a few tunes you know and like in there. You can play with up to four people, either together or in competition.





---
---
---
Leave a Comment