6 For The Fourth of July
Where should you go to catch the country's best 4th of July fireworks? Check out these 6 locations.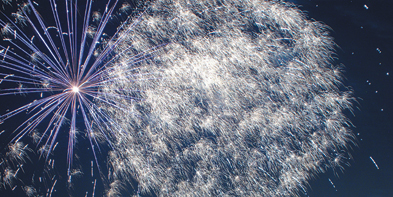 ---
What's more American than watching a fireworks show on the Fourth of July? The noise, the lights, the oohing and ahhing while holding your sweetie's hand in the dark. Best of all, you don't even necessarily have to pay for this kind of entertainment. So pack up a picnic blanket and a bottle of wine, and check out one of these bombastic shows.

Navy Pier, Chicago
Set right on Lake Michigan and with views of the city's skyline, Chicago's famed Navy Pier ( www.navypier.com) hosts an Independence Day fireworks spectacular. The event is accompanied with patriotic music if you're at Navy Pier, but you can see the show from just about anywhere on the lakefront. If you're looking for a great viewing spot, try planning a romantic picnic at the Adler Planetarium lawn.

Newport Dunes, California
Newport Dunes Waterfront Resort's 49th annual Fourth of July celebration, co-sponsored by the City of Newport Beach, will feature a full day of family activities highlighted by a patriotic pyrotechnic display launched over the tranquil waters of the Newport Back Bay. Its grand finale is set to be the biggest in the area, and the presentation will be accompanied by a special red, white and blue musical salute to the U.S. Armed Forces. It costs $30 per car to attend.

Lenox Square, Atlanta
Fourth of July at Lenox Square has been an Atlanta tradition for 48 years and is said to be the largest fireworks display in the Southeast. Each year, more than 350,000 to 500,000 people attend. This year's show will include 4,184 fireworks and have two mini finales before the grand finale. Lenox Square also provides live entertainment and kids' activities, including climbing walls, an obstacle course, slides and face painters.

Steamboat Springs, Colorado
Steamboat Springs's fireworks show sets itself apart because of the ski resort's breathtaking topography. Not only does the spot in the Rockies provide a breathtaking backdrop, the hilly site also allows the organizers to use really large shells for maximum boom. About 75 percent of viewers watch from the comfort of their homes in the small town, but they get the full sensory experience from home because the fireworks are launched in sync with music played over the radio.

Music City July 4th: Let Freedom Sing!, Nashville
Nashville's annual concert and fireworks extravaganza at Riverfront Park is boasting the city's biggest ever fireworks display this summer. The event is best known for bringing together great music acts and highlighting local talent. Best of all, the event is free.

New York Harbor
One of the consistently top-rated fireworks displays in the country is the Macy's Fourth of July fireworks in New York Harbor. Each year tops the previous year, with bigger, newer and better explosions. With more than 35,000 pyrotechnic shells in a half-hour display, it's the nation's biggest fireworks event. For an extra special view, according to Discover Boating (www.DiscoverBoating.com), take a boat out on the East River between 23rd and 42nd Streets.

Won't be near any of these locations this summer? To find a fireworks show near you, check out Yahoo! Upcoming (http://upcoming.yahoo.com/).


---
---
---
Leave a Comment