7 Tips for Managing "In-Law Stress" During the Holidays
Adapted from the new book, "5 Simple Steps to Take Your Marriage from Good to Great."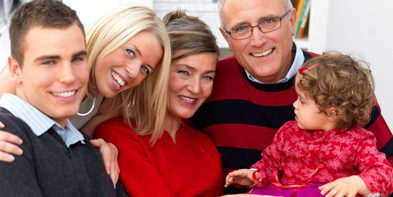 ---
Your mother-in-law takes over the kitchen at holiday time. So what? Your father-in-law drinks too much and sulks in the corner. Big deal! Don't let in-laws ruin your family holiday, multiply your stress and leave you feeling defeated or angry.

There are some simple strategies you can use to get along with difficult in-laws this holiday season. Doing so will make your holiday get-together more pleasant. But there's an even better reason to make peace with in-laws. In my long-term study of married couples, when a husband or wife fails to get along with the in-laws, it's predictive of marital unhappiness down the road. On the flip side, in the happiest marriages from my study, both spouses reported that they felt close to, or at least got along with, their in-laws.

Here are some ways to avoid adding in-law stress to your holiday season— and potentially harming your marriage.



Expect the minimum.

Don't expect praise, warmth, and approval from your partner's family. Transform into a gracious host and treat them as honored guests. They will either respond or not—but you won't care.!



Let them help.

Ask your father-in-law to build a fire. Ask your mother-in-law to make or bring her favorite dish. People like to be needed, and it gives them a way to contribute.



Be a reporter.

One of the best ways to keep conversations light is to ask questions and get your in-laws talking—about their work, childhood, hobbies, etc. People love talking about themselves.



Blend traditions.

Ahead of time, ask your partner to describe family rituals such as special prayers, toasts, foods, or after-dinner games or activities— and surprise your in-laws with one of their favorite holiday rituals.



Deflect negativity.

If your in-law criticizes you, your partner, or a member of your family, simply smile and reply with a neutral comment, such as, "Think so?" Later, after the holidays are over and you have more control over the setting, you can share that it hurt your feelings.



Set a time limit.

Set limits on the time you spend cooped up with your in-laws by announcing at the outset that you will have to leave later to take the kids skating, to visit a food pantry, or to deliver cookies to an elderly neighbor.



Take a walk.

Everyone understands the need for a walk after a big meal. Get out of the house and take some deep breaths to recover.

Psychologist Terri Orbuch PhD, known as The Love Doctor, is project director of the landmark Early Years of Marriage Project, funded by the NIH and ongoing since 1986. She has been a practicing marriage and relationship therapist for more than 20 years, and is a popular love advisor on radio, TV, and peoplemedia.com, most recently seen on NBC's Today. A popular blogger for Huffington Post and Psychology Today, she is a research professor at the Institute for Social Research at University of Michigan, and a professor at Oakland University. Dr. Orbuch is author of "5 Simple Steps to Take Your Marriage from Good to Great" (Random House). You can find out more about her at www.drterrithelovedoctor.com.


---
---
---
Leave a Comment