Motherís Day Tips for Husbands
Tips for dads on how wives, mothers and stepmothers should be treated this Motherís Day. We've got some advice for moms too.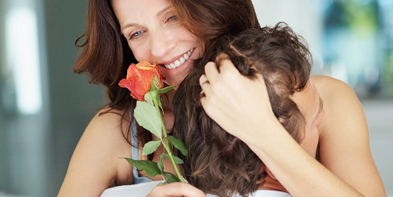 ---
"
Guys, this message is for youÖ It is your responsibility to show your children just how important Mom is to the family and how much you value your wife and your childrenís mom."
A

re you one of those women who have always dreamed of the perfect Motherís Day, while each year is sorely disappointing? Instead of blaming your husband and family for not taking the lead, be gently proactive and call the shots yourself this year.

Itís important to remember that husbands (and children) cannot read your mind without a few subtle hints. Many moms donít care what the day brings as long as her family remembers. Others may have a very specific idea in mind. Itís important to communicate your wishes if you would like to see them take wings this Motherís Day.

For you wives, after receiving your husbandís heartfelt gift, make every effort to show genuine appreciation, even if it is the wrong size, wrong color or a triplicate of what he has purchased for you in previous years. You can secretly return it if you have multiples of the exact piece in your dresser drawer.



For the Husbands


Guys, this message is for you. She may not be your mother, but she is the mother of your children and that counts for a whole lot of something! It is your responsibility to show your children just how important Mom is to the family and how much you value your wife and your childrenís mom. Setting the tone for Motherís Day takes effort. Plan a time to talk with the kids about how they would like to honor their mother. It also means setting the example by making or purchasing her a card (that is why there are so many cards that say "To the one I love" or "To my loving wife") and a heartfelt gift. If your children are small, take them to the store, give them a small spending limit and let them select their own gift. If your kids are already teens, they should be expected to use some thoughtful planning and set aside some time to go with you or go on their own to pick out a gift they feel would make Mom happy.

Stepmoms deserve respect on Motherís Day too. At the very least a stepmom should receive a card stating respectful recognition, if not one that offers gratitude and affection for being a part of your childís life. While stepparenting is always a sticky topic and there is much emotion fraught with declaring love for another "mom" figure, it is important to remember that the child should not be caught in the middle of adult issues. If the stepmom is a caring, nurturing part of the childís life, she should be acknowledged accordingly. An over-the-top gift is not necessary for your childís stepmom unless she is extremely close to your child, but some form of acknowledgement is always appreciated. And dads, while you are at the store, pick up a card for your own mom this year.

This can be a prime opportunity for husbands and dads to shine. From breakfast in bed to "Queen for a Day," your wife and mother of your children will most likely light up when she sees you walk through the door on Motherís Day morning with a smile on your face and an agenda that is all about her. Motherís Day comes around once a year, but being a mother and wife is a full time job all year long. Treat your wife the same way you would like to be treated and remember that Fatherís Day is just around the corner so you are setting the standard for things to come.

Diane Gottsman, a nationally recognized etiquette expert, is the owner of The Protocol School of Texas, a company specializing in etiquette training for corporations, universities and individuals, striving to polish their interpersonal skills. You can reach Diane at 877-490-1077 or www.protocolschooloftexas.com. You can also follow her on Twitter @: www.twitter.com/DianeGottsman.


---
---
---
Leave a Comment