The Whole Truth About Whole Grains

All about the whole grain, what to look for on labels, and a few recipes too!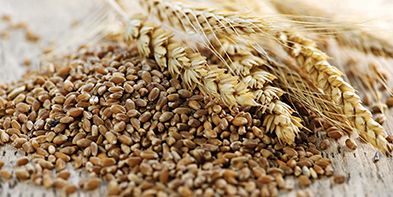 Whole grains are exactly what their name implies. The grain is left in its whole, originally harvested state. It is not cracked, crushed, rolled or cooked down; otherwise known as processed or refined. A whole grain is more nutritious than a processed grain because the processing removes some of the nutrients. Research shows that people who regularly choose whole grains over processed grains are less prone to obesity, heart disease, stroke, cancer, and diabetes. Whole grains are a good source for fiber, magnesium, Vitamin B and Vitamin E. Making the small change from processed white bread to whole grain bread is an easy way to improve your diet.
---
MORE ARTICLES
Plating Your Food Can Make You Healthier

There's a very legitimate health reason for plating your food, and you donít have to be a professionally-trained chef to perk up a plate. Find out why and how to do it.
Superfoods for Summer Plates

Add these 5 healthy items to your shopping cart this summer and begin to reap the benefits.
A Simple Guide to Grilling Vegetables for the Family

Grilling season is here! Fire up the BBQ and introduce your family to some of these killer vegetable dishes below.
How to Manage Stress with the Right Foods

Learn to manage your eating habits and make better food choices in times of stress with these 5 tips.
Irish Recipes for the Whole Family
Olympic-Inspired Russian Recipes
How to Change Unhealthy Eating Habits One Step at a Time
Guide to a Healthier Halloween
Introducing Your Toddler to Pumpkin Dishes
Baby-Friendly Herbs, Spices and Natural Flavors
Checklist: How to Pack a Healthy Lunch for Your Child
A Healthier Salad: Make a MyPlate Salad Bar
Summer Food Safety Tips
Celebrating Dads: A Father's Day Picnic Menu
Tasty Springtime Fruit & Vegetable Recipes
6 Reasons to Go Organic
5 St. Patrickís Day Recipes
Easy Ways to Add Greens to Your Family's Diet
Snack Better: The Sweet Tooth Edition
Wine Etiquette 101
Improve Your Sex Life With Dark Chocolate
2 Simple Family-Friendly Soups
Hanukkah Inspired Foods For Your Baby
Dinner Tips for the Hectic Holiday Season
Easy Tips to Reduce Holiday Meal Madness
Tips to Stop Food Waste & Save Money
Meatless Mexican Fiesta
Healthy Habits: Introducing Your Kids to Red Foods
Family Meal: Bento Box Dinner
Non-Traditional Thanksgiving Recipes
Sherry Braised Chicken Thighs with Meyer Lemons & Olives
Introducing Your Baby to Indian Cuisine
Artichoke 101
5 Heart Healthy Recipes
8 Tips to Raising a Well-Rounded Eater
How to Make Lunchtime Easy & Fun
Age-Appropriate Holiday Meals for Your Baby
Simple Cranberry Recipes for the Holiday Season
Common Questions About Breakfast & Children
25 Quick & Easy Kid-Friendly Breakfast Ideas
Quick Tips to Protect Your Children from Food Allergies
Salmon Cakes with Spicy Yogurt Remoulade
Perfect Papaya Dishes for Hot Days
Squash Blossoms, Mozzarella, Pesto and Prosciutto Pizza
Herb Pork Loin with Port Wine Balsamic Sauce
A Cozy Lentil Soup to Warm You Up
A Valentineís Treat Your Sweetheart Will Love
Great Salads for Any Occasion
Feeding Your Child Right
5 Tips on Saving Money When Buying Organic Groceries
Grilling Tips to Ensure Your Cookouts are Well Done
How To Select, Store and Prepare Shrimp
Teach Your Kids to Cook
Essential Pots and Pans for Couples
Strawberry Sweetheart Parfait
7 Vegetarian Recipes for Kids
Valentineís Day Dining Etiquette for Men
The Family Dinner: 10 Fast and Simple Tips
Starting Family Food Traditions
Rev Up Your Metabolism with Whey
Refreshing Summertime Orange Recipes
The Supper Club
Breakfast in Bed
Dinner Etiquette
Winter Beet and Vegetable Soup
5 Champagnes for New Year's
Last-Minute Wine
Holiday Kitchen Disasters
PieóOh My!
Fresh Peach Chutney
Got Goat?
Meatloaf Supreme
A Tuscan Summer
I Am Raw
Fajita Feast
Dadís Kitchen
May-Day For Eggs