Protect Your Skin with These Sunscreen Secrets

Summer time can be fun, but make sure you follow these tips to help avoid skin damage and the increased risk of skin cancer for you and your family.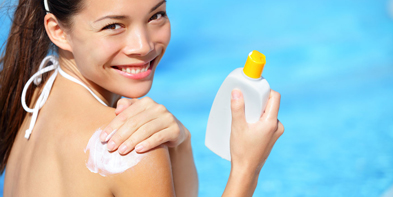 Summers just about here. Itís time to have fun. But, before you dare go outside, you will want to protect your skin from the hot sun. If youíre like me, your head will spin just by looking at all the different sunscreens on the market. So, how do you know which one to buy?

First, itís important to understand that there are two types of sun rays to be concerned with: UV-A rays which causes damage that leads to wrinkles and brown spots, and UV-B rays which cause the actual sunburn.

---
MORE ARTICLES
Understanding the Nature of the Enabler

The enabler comes in many forms. Are you one of them? Here are many of the possible ways that you are.
Prepping Your Feet for Sun & Sandals

Don't be de-feeted this summer! From silky skin to perfectly-painted toenails, these simple tips will help you rock any sandal.
3 Big Secrets to Feeling Young Again

Getting old is a drag, but there are things you can do to help put an end to feeling like it. Use these tips to stay fit, healthy, and perform well at any age.
What a Good Marriage Means to Your Health

Having a good marriage can lead to a number of health benefits, and the stronger the commitment the greater the rewards.
Helping Your Wife Lose Weight
5 Ways To Make Quiet Time, Your Time
Need to Know: High Blood Pressure in Children
Through Spine Surgery, Wife Learns Husband Has Her Back
Is Your Teen Not Sleeping Enough?
8 Springtime Strategies to Look and Feel Great
Turning Negative Traits Into Strengths
7 Ways to Use Nature to Boost Your Moods
6 Gym-Free Ways to Lose Weight
8 Tips to Halt Winter Weight Gain
ADHD & Your Marriage: Easing ADHD-Related Marriage Issues
ADHD & Your Marriage: Understanding and Combating the Symptoms
6 Ways to Have Toned Arms and Legs at Any Age
Extreme Personality Shifts: Does Your Spouse Need Help?
How To Protect Your Medical Information
5 Behaviors That Make You Fat
How to Get Anxiety Under Control
How to Avoid Shaking Hands
The Health Benefits of Singing
5 Easy Ways to Get Your Kids Fit
3 Tips to Get Your Husband to See a Doctor
Challenge: Exercise Just 10 Minutes Per Day
How Your Marriage Can Slow Disease
Tips To Reduce Stress and Lose Weight
7 Reasons To Go for a Hike With Your Spouse
Improve Your Marriage with Flower Power
Exercise: 4 Reasons to Start Today
Spring Awakening
The Hidden Benefits of Spring Cleaning
Release Your Stress Tonight
Resolutions for Yourself
Make Your Holiday Season Enjoyable With Exercise
How to Avoid Holiday Weight Gain
6 Ways Exercise Leads to a Happier Marriage
Ethnic Cuisine: A Healthy Way to Eat Out
Shape Up for Spring
Life Adjustment Quiz For Two
8 Ways to Help Your Spouse Lose Weight
Flu Season Fixes
Starting Fresh
9 Ways to Make Healthy Eating a Habit