7 Grilling Safety Tips to Ensure Your Cookouts are Well Done
You love your spouse, but you know they may not be the most experienced when placed in front of the barbecue. Use these tips to avoid disaster.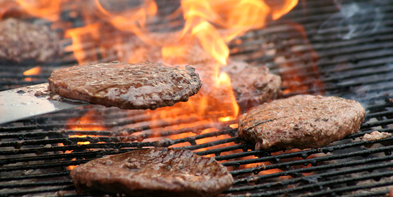 ---
"
For gas grills, always be sure the valves are turned off when not in use. Check the tubes regularly for cracking, brittleness, holes and leaks in the connections."
With summer fast approaching, it can be an exciting time for couples who want to invite family and friends over for a summer cookout to celebrate their new home and life together—or just the new season. However, this cherished pastime can be more dangerous than many realize—especially for younger couples who may be hosting their first cookout. In 2009, National Fire Protection Association (NFPA) reported that approximately 17,700 people nationwide were treated in emergency rooms for grilling injuries; 22 percent of the patients were children under five. Roughly half of all these injuries were from thermal burns, i.e., not because of the grill flame, but because of contact with the grill. Casual cookouts can turn dangerous—and sometimes deadly—if safety is ignored. Between 2004-2008, grilling caused 3,200 structural fires and 4,500 outdoor fires nationwide, resulting $70 million in property losses and causing an annual average of 13 deaths.

While both gas and charcoal grills can be dangerous, the NFPA found that gas grills have a much higher risk of causing fire and injury and account for more than 81 percent of all grill fires. However, many of these fires can easily be avoided by simple safety precautions. For example, placing combustibles too close to the heat is the leading cause of charcoal grill fires. This can easily be avoided by moving flammable materials further away from the grill.

Here are a few additional precautions that will help your family cookout or romantic dinner of fillet minion with your spouse not go up in flames. Follow these easy pointers to make grilling safer:



1.

Keep barbecue grills on a level surface away from the house, garage and, most importantly, children and pets. If grilling on the patio, make sure that all furniture and accessories are far from the grill. For condos or apartments with balconies, it is always safer to move festivities to available lawn space, and never grill inside the home or garage—even if it is raining.



2.

For gas grills, always be sure the valves are turned off when not in use. Check the tubes regularly for cracking, brittleness, holes and leaks in the connections. It would be best to store gas cylinders outside and away from the house, if possible.



3.

For charcoal grills, only use starter fluids designed for the grill and never use gasoline. Limit the amount of starter fluid used, and to avoid a flash fire, never add more liquid fuel to a lighted grill.



4.

When using bamboo or wood skewers, soak them in cool water prior to use so they won't ignite on the grill.



5.

Keep a fire extinguisher accessible, and never leave a grill unattended once it has been lit. A bucket of sand or a garden hose should be near if there isn't an extinguisher.



6.

Never allow burned coals to smolder in any container on a wooden deck, and make sure to soak coals before disposing of them.



7.

Dispose of cold ashes by wrapping them in heavy-duty aluminum foil and putting them in a non-combustible container.

Above all, remember that every outdoor piece of cooking equipment will remain hot for hours. These precautions should be used for all outdoor cooking devices, including propane turkey fryers and outdoor fire pits. Also, wooden surfaces, such as decks, can present fire hazards so never place cooking devices directly on them. After investing in a home, you don't want to damage it with a preventable grilling accident. Lastly, remember to make sure your home is insured and protected by the appropriate homeowner's or renter's insurance in case an unfortunate accident does occur. When barbecuing this summer, keep these tips in mind for a fun—and safe—outdoor meal.



RELATED ARTICLES


10 Tips: How to Throw a Great Summer BBQ
Squash Blossoms, Mozzarella, Pesto and Prosciutto Pizza
Artichoke 101

Erin Plaziak is a director of product development at MetLife Auto & Home. Plaziak has more than 15 years experience in the insurance industry. MetLife Auto & Home is a brand of Metropolitan Property and Casualty Insurance Company and its affiliates, Warwick, RI.


---
---
---
Leave a Comment