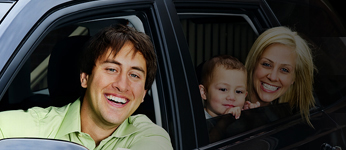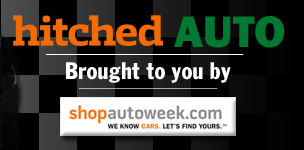 About shopautoweek.com:
An authoritative online resource for anyone researching a new, used or certified pre-owned vehicle. Consumers will easily find vehicle specifications, features, reviews and pricing information to help guide their vehicle purchase decision.
Review: 2012 Toyota Camry SE

Serious refinements lace the sleek new Camry for 2012 while still packing the reliability Toyota cars are know for.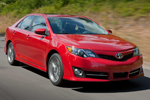 Since its debut in 1983, Toyota has sold more than 15 million Camry cars worldwide. That is enough Camrys to, if parked bumper to bumper, wrap around the world almost twice.

If you're asking yourself why you aren't one of millions behind the wheel of a Camry, consider this—it is redesigned for 2012 with a better-looking body and the same dependability. Now in its seventh redesign, the Camry and Camry Hybrid offers six different trim levels to choose from. The Camry is available in the entry-level L, well-equipped LE, premium XLE and sporty SE grades.
Review: 2013 Dodge Ram 1500

Packed with performance features, this new truck is a great addition to any family.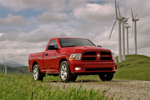 One of the three traditional domestic half-ton pickup trucks, the Dodge Ram started life in 1981. Recently, though, parent company Chrysler spun Ram off as its own brand, helping separate the rugged image of a pickup from the Dodge performance ethos.

The redesigned 2013 Ram 1500 has no shortage of rugged capability, but we see fuel economy becoming a top priority for Ram for the first time. The EPA results are in, and the 2013 4x2 model with a V6 engine achieves 18 mpg in the city and 25 mpg on the highway; four-wheel drive drops those numbers to 16 and 23, respectively.
Most New Luxury Cars Fail Small-Overlap Collision Testing

What you and your spouse should know about the IIHS's new "small-overlap" frontal crash test ratings.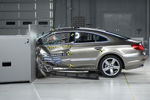 The 2012 Acura TL and Volvo S60 were the only two of 11 luxury vehicles tested that passed the Insurance Institute for Highway Safety's (IIHS) new "small-overlap" frontal crash test with a "good" rating. The Infiniti G-series sedan received an "acceptable" rating.

Small-overlap collisions are frontal crashes that impact either of the front corners of the vehicle. By releasing these results, the insurance group aims to increase the safety of future vehicles.

4 Ways Pickup Truck and SUV Drivers Can Save On Gas

Don't let your SUV or truck break the bank at the pump. Use these tips to help save on gas this summer.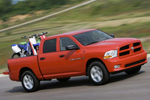 While pickup trucks and truck-based SUVs are, by nature, not the most fuel-efficient vehicles on the market, there are still ways that truck owners can save on gas. And, if you plan on doing a lot of driving this summer, chances are you're going to be spending hundreds of dollars at the pump just to take a quick family vacation. Here are four ways to improve the fuel economy in your pickup or SUV, according to the Department of Energy.



Part 1: Finding An Affordable Car Under $20,000

In part one of this three part series, we explain what options you can expect to find in the $20,000 and under range.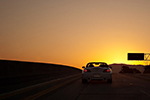 For those beginning the car-shopping journey, price is often the first consideration. Being realistic about what you can afford and learning what you can get for that price can be either exhilarating or hugely disappointing. In this series, we'll look at what car buyers can get—both new and used—for $20,000, $30,000 and $40,000. Here, we detail a few of our favorite options (not specific cars) that you can expect to find for $20,000 or less.

There are several new car offerings in the small- or midsize-sedan category with base prices below $20,000.
Teen Driving Safety and Prom Night: What Parents Need to Know

Follow these great tips to help make sure you both see eye to eye on what driving responsibly means and how dire the consequences can be.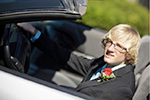 Distracted driving is at an all-time high and we are seeing more and more accidents from cell phone use among all age groups. For teen drivers though, inexperience and accessibility to smartphones has made for a lethal combination. The
Governors Highway Safety Association
reported in February that the number of 16- and 17-year-old driver deaths increased 11 percent for the first six months of 2011. If the trend continued for the second half of 2011, it would have ended eight straight years of cumulative declines in teen-driving deaths. Final numbers are still being tallied.
Does Your Car Really Need Higher (More Expensive) Octane Fuel?

With rising gas prices, do you really need to pay for the higher octane fuel? Maybe not!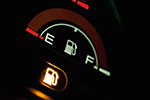 Gas prices are in constant fluctuation across the country. One day they are up and the next they drop a few cents. At the same time, we're getting more questions from consumers about the differences between regular and premium fuel and which should be used in a particular car.

Not surprisingly, the safe answer is to use whatever grade of fuel is specified in your owner's manual or the label inside the fuel-filler flap. If your manual says something along the lines of "Premium fuel required," you can stop reading here and resign yourself to the fact that you're going to be springing for high-octane premium gasoline.
6 Tips to Buying a Car

Many people are uncomfortable with the car-buying process, here are simple steps to getting a good deal on your next car.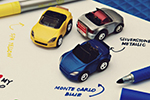 Whether you are preparing for your first car-buying experience or you've bought many, most of us worry that we're walking into the experience unprepared or are afraid of being taken advantage of when dealing with a car salesperson. You're in the fortunate position that you're not alone in this process, in that your spouse can give you a trusted second opinion.

Car salespeople have a reputation—some of it deserved—of swindling customers. But most of the time when a car buyer spends too much money, it's due to ignorance of the buying process.?
How to Maintain The Interior of Your Car

Whether your picking up little Johnny in the sports car or the family SUV, protecting the interior of your car is important. Here are a few tips to take into account.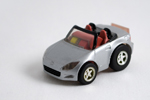 Take care of your car and it will take care of you. Most of us recognize this truth when it comes to routine maintenance, but what about the condition of the interior?

It may not cause a breakdown, but a car with holes in the carpet can create safety problems for the driver, like a stuck high heel and a car with shoddy interior will also suffer when it comes to resale value. Making sure your interior stays clean and undamaged is a project the entire family can chip in on.

What to Do After a Car Accident

A car accident can be a very anxiety-ridden experience. Stay calm and use these tips to protect yourself and make the right decisions.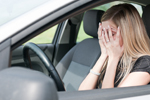 Between hurried drivers, icy winter roads and the texting-while-driving epidemic, a car collision could happen in your future. How you respond in the immediate and subsequent days could not just keep you safe, but save you time, money and stress. Now, we're hoping you never have to worry about this, but if a car crash happens stay calm and follow these steps.
Get your car off the road.
If your car is drivable, move it immediately to a safe location, but don't leave the scene of the accident.
Tips for Buying a Used Car From a Private Seller

A quick Q&A that will help you cover all of your bases when purchasing a used car.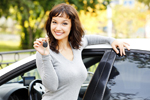 Buying from a private party can score you a deal on a used car—often discounts of 15 to 20 percent when buying from a private seller over a dealership. However, how do you make sure the deal isn't too good to be true? Dealer insider, Ed Armbruster, gives his tips on buying from a private seller.
Q. What should you ask the buyer before purchasing?
Tips for Keeping Teen Drivers Safe During Winter

Don't leave your teen unprepared this winter. Use these tips as a guide to keep them safe.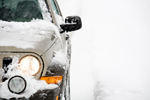 New drivers are at an increased risk of being involved in a crash. Winter months present new obstacles like snow- and ice-covered roads that add to the learning curve. We spoke with representatives from the
American Automobile Association
(AAA), the
National Highway Transportation Safety Administration
(NHTSA) and Ford's teen-focused
Driving Skills for Life
program to compile tips for keeping your teens safe on the roads this winter.
While your first instinct may be to locate a driving school that specializes in teaching teens how to maneuver a vehicle in wintry conditions, these are few and far between, and many are expensive and require travel. Instead, take the time to get your teen acquainted with driving on slick surfaces before he or she heads out alone.
How to Choose the Right Family Car

Buying a new car can be a stressful endeavor and a lot to think about. Use these tips to choose a car that's right for your family.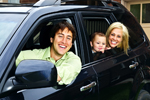 Whether you're preparing for your first bundle of joy or your fifth, many changes come with each addition to the family. Modifying your mode of transportation may be on the top of the list. As you embark on your family car search, remember there's more to a car than just the number of seats it contains.

We contacted dealer insider, editorial contributor and father of two, Ed Armbruster, for his suggestions on the family-car-shopping process.

Car Gifts You Can Buy at the Auto-parts Store

Here are a variety of car-related gift ideas that can save your spouse if they're ever in a pinch.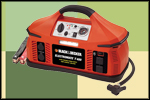 Chances aren't likely that you'll get your dream car for Christmas. But considering how much time people spend driving and you'll realize how much something new for their car will be appreciated. With that in mind, here are some fun and useful accessories that are as close as your local auto-parts store.
Electronic accessories:
With a remote-car-starter system, you can start the car and let the interior warm up, all without leaving the house.