Balance is B.S. The Real Keys to Success as a Woman and MotherBalance is B.S. The Real Keys to Success as a Woman and Mother

If you're trying to live a perfectly balanced life, you're chasing a delusion.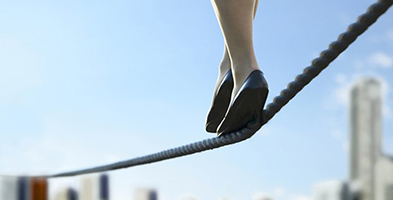 When it comes to motherhood, wifehood, and careerhood, I think the word "balance" is bulls** (excuse my French). As a wife of 25 years, mom of four kids ranging in age from 13-23, yoga instructor, author, wellness warrior, and owner of ModernWell, a women's cooperative workspace and wellness center in Minneapolis, I have done my fair share of trying to perfect the act of "balance." And guess what? It is indeed an "act" and balance is not a reality for most working moms, nor should it be a goal.

---
MORE ARTICLES
Working During School Hours: How to Find It and Make It Meaningful

5 consideration when looking for a flexible job while the kids are in school.
Etiquette: Should I Send My Boss A Holiday Card?

Business relationships are not as cut and dry as they once were and the cards that go out can be paper to digital... here's what you should know.
How to Help Your Spouse Find A Better Job

If your spouse is looking for a change, follow these 4 steps to recalibrate their career trajectory.
Passive Aggressive Responses in the Workplace

The first step in addressing the issue is acknowledging it's there.
How Women In Leadership Roles Can Change the Workplace
Understanding Your Child's Choice as a Journalism Major
How to Support Your Spouse's Career Decisions
How to Find the Best Flexible Jobs for Stay-at-Home Parents
The First Jobs of 3 Famous Couples
6 Ways to Take Your Power Up a Notch
Help! I Hate My Boss
6 Classic Proverbs to Improve Your Social Success
7 Big Rules to Follow When Firing a Client
10 Ways to Connect With Other Women in Business
Women in Business: 11 Ways to Connect
9 Types of Clients You Should Cut Loose
What Your Business Attire Says About You
11 Signs Your Company's Mood Has Soured—and What to Do About It
5 Ways Admitting to Mistakes Can Help Your Business
Why Business Relationships Require More Than Texting, Friending and E-mail
17 Things You (Unknowingly) Do at Work That Say, 'I Don't Care'
12 More Pieces of Advice You'll Be Glad You Shared With Your Graduate [Part 2]
22 Pieces of Advice You'll Be Glad You Shared With Your Grad [pt. 1]
DJ Unk Offers 6 Tips to Help Your Family Cope with a Famous Parent
Tips To Help Women Identify & Reduce Workplace Stress
Knowing Your Rights For Time Off Due to a Pregnancy or New Born
7 Facebook Business Page Tips
Marriage and Grad School: Tips to Help Make it Through
Handling the Stress of a Job Loss
How to Handle a Job Loss
Rules for Working Together When Married
Job Interview Etiquette
Should Husband Quit Job to Save Marriage?
6 Ways To Make Working With Your Spouse…Work
Building A Business Together
Tips On How To Handle Someone Else's Job Loss
Things to Consider Before Becoming Co-Workers
Office Spouse
Scheduling Conflict
How to Balance Career and Family
How to Retire Richer
Career or Kids...