About Dr. Brian Parker:
Dr. Brian Parker is a sexologist and sex educator and the creator of two sexual intimacy board games "Embrace" and "Pillow Talk". The games are available on his website, www.foreverpleasure.com which features original erotic art, high-end sensual products and adult sex education.
A Vibrators Guide for Couples: How to Pick the Perfect Toy

A complete guide for understanding the variety of vibrators on the market and what's right for you and your spouse.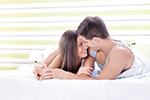 Whether you are new to the world of sex toys or just looking for more information on buying a sex toy that is right for you, it can be hard to find truthful and reliable sources that help you find the best vibrators for couples.

Sex shops or online stores can make every toy seem like the best toy you will ever own, or coax you into buying the most expensive and elaborate toy even when you just want something simple.


Product Review: We-Vibe 4 Plus… There's An App for That!

The fourth iteration of the couple's vibrator just keeps getting better with age.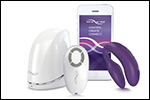 In 2008 the Standard Innovation Corporation launched the We-Vibe, a revolutionary dual stimulating vibrator worn by a woman while making love. In the six years since its launch, the We-Vibe has gone through many iterations in functionality, adding more vibrating modes, a remote control and now an app!

The We-Vibe 4 Plus continues its march as a premier couple's vibrator in the market. The vibrator continues its iconic, U-shaped construction made from 100% medical-grade silicone that feels soft and silky to the touch and is free from phthalates, latex and BPA.
Product Review: G-Spot Vibrators

Yes, the G-spot is real! And these toys were built to get you there.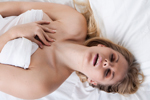 G-spot vibes are curved at the tip to stimulate the G-spot. The G-spot or Grafenberg Spot is about an inch and a half to two inches inside the vaginal wall. You can find the G-spot by inserting a finger, vibe, or dildo into the vaginal canal. Gently bend your finger or toy straight up towards the urethra in a 'come hither' motion and search for a bean-shaped gland. The G-spot will be raised.

It is easier to find a woman's G-spot when she is aroused and clitoral stimulation is the best way to achieve this. You can use your G-spot vibrator to stimulate the clitoris beforehand.
Product Review: Tongue-Shaped Stimulators

Dr. Parker reviews the new tongue on the block that will make you squeal.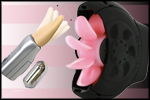 In the spirit of Halloween, this month's product review highlights the new Sqweel stimulator from the folks at Love Honey in the UK. There have been a number of tongue-shaped vibrators on the market in the past, but nothing like Sqweel.

And unlike the ghost, ghouls, and goblins that scare the crap out of you on October 31st, this wonderful new toy will have you squealing for the other 364 days of the year. However, before I review the Sqweel, I'd like to offer a comparison to a more traditional tongue stimulator.
Product Review: Male Masturbation Toys

An oft kept secret among men these devices are not only popular, but a must-have item for the bedroom.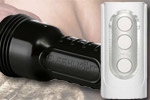 It's no secret what every man's favorite toy is... his dick! Experts report that about 94% of adult men masturbate regularly. So why not do it with an amazing masturbation sleeve or device? There are toys on the market that will produce some extremely powerful orgasms. Toys in this area range from simple sleeves to pocket pussies to Fleshlights to the new Tenga Flip. The Fleshlight is the top selling male sex toy in the world. However, the Tenga Flip (and the various other male masturbation tools in the Tenga line) are extremely popular in Japan and sure to be a favorite for men in North America.

Product Review: Massage Candles

Heat up the bedroom with a warming massage, tonight.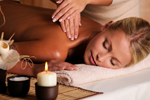 A reciprocal, sensual massage can be an utterly enjoyable experience. Not only is it relaxing, but it brings us closer to the one we love—and, it's just as good if we are the one giving the massage.

Most people are touch deprived. We live in a society that doesn't value touch, but we need physical contact. Our skin is our biggest organ and it needs to be touched. Massage can be relaxing, sensual, or even erotic.

Sensual and erotic massages are unique and different, however. A sensual massage is done in the nude with candlelight.
Product Review: Rabbit Vibrators

In a new column, sexologist Dr. Brian Parker discusses and rates sex products to help keep your married sex life fresh and exciting.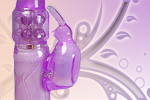 In the first sex product review, I will look at the popular 'rabbit' vibes or what is often referred to as, "rotating dual" or "combination" vibrators.

These wonderful toys stimulate both the clitoris and vaginal canal. They usually have dual action rotating shafts and pearls that cause exciting sensations. They come in a number of shapes and sizes, but most look like a traditional vibrator with a "branch" coming off of it to stimulate the clitoris. The branch is often in the shape of an animal
An Introduction Into Sex Toys for Men

If you're looking to get something for the guy who has everything, these products can add a little stimulation of eroticism into your marriage.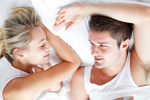 Even though I spend my days writing and teaching about love and sex, I still find it challenging to delve into the topic of male sex toys. I am not alone in this. For many married couples, just introducing the idea of adding a vibrator into a relationship can sometimes be awkward and challenging. For a long time the only sex toys I sold on my Good Clean Love website were for women. I was first introduced to male sex toys in the midst of adult entertainment trade shows where exhibitionism generally wins out over education. Although I was curious, the common terms like butt plug and cock ring were not easy for me to repeat and didn't really teach me much about the benefits and uses for the products.
Furnishing Your Love

Take back the pleasure and reduce sex-related stressors with some unique furniture.
There are a lot of good reasons to consider the use of love furnishings in your life. Not the least of which is your health and the health of your relationship. Maintaining an interesting and vital sex life has the power to sustain your relationship and alleviate a range of health problems including things like chronic pain.


And yet, the stress and common occurrence of back pain often interferes with a couples' ongoing intimacy—85 percent of adults
The (Sex) Gifts that Keep On Giving

Spice up your holiday season with these pleasure-pleasing products.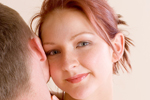 'Tis the season when we're all faced with finding the perfect gift for someone we love. With the economic turmoil and its associated fears coming to bear on all of the purchases we make, here area a few gift ideas that can give back to your physical, emotional and mental well-being throughout the year. Adding useful and innovative tools and accessories to help you enjoy a reliable and vital sex life is actually like putting money in the bank. A New York Times article said that researchers at Warwick University concluded that a healthy and sexually satisfying partnership is like having a nest egg of $100,000.
Great Summer Reads to Wake up Your Sex Life

Get in the mood this summer with a few great books.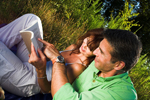 When I think of summer, I have this picture of long lazy days by the water, listening for the distant voices of my children while I wander off into a great book. Author Ana Freud said, "Sex is something we do, sexuality is who we are." What better time than the brief interludes of warm sunny days to ponder the mystery of intimacy, with fresh insights and revelations to bring increased clarity to how we live our sexuality, as well as fun and passion to what we do with the people we love most.

Understanding ourselves as sexual beings and building a language to explore who we are in these mysterious places is a large task. For some people, the taboo of adding language to sexual acts keeps them silent and unfulfilled.
Lelo Products Offer Plenty of Pleasure

In the launch of our new column, our products expert reveals some of her favorite pleasure objects from Lelo.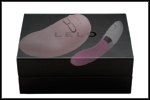 I had mixed feelings about vibrators when I first started my love products business and was learning about the adult industry. I always believed skin-to-skin contact was best and had heard errant reports about the over use of vibrators, which can lead some women unable to orgasm without one. After exhibiting at a few lingerie shows, I had seen the dizzying array of selection in every imaginable color and size. I never felt compelled to take one home, until one afternoon when I met the founder of Lelo, Erik, a handsome Swedish guy who came to my booth, happy to trade for a variety of love products. He gave me a "Lily," one of the line's best-selling pleasure objects to try out. Little did I know that would be the beginning of a love affair with this company and their beautiful pleasure objects.

Still it wasn't until I tried it out that I knew I had found a product line with the same integrity, attention to detail and quality that I was committed to developing for my own products.