How to Find a Quality Sex Store
Shopping for a good sex shop? Here are 4 things to look for in a reputable sex store.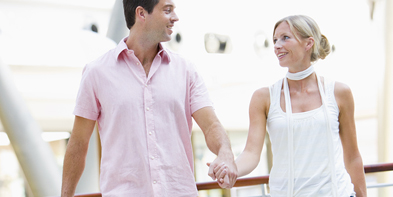 ---
Shopping for sex toys and other sex products isn't what it used to be—thank God.

Back in the day, if you wanted a good porno or an actual vibrator that wasn't packaged as a "back massager" you had to travel to the seedy part of town, sneak through the back door of a dimly-lit building marked "XXX Sex Town" in big, accusing letters, and shop behind blacked-out windows that hid the shame of you and all the other embarrassed shoppers within. Once inside, you were most likely greeted by a creepy middle-aged man who looked like he only crawled out of his mom's basement on the days he had to work and who stared you down behind the counter to make sure you didn't steal anything.

Thankfully, those days are gone.

Now you can find a charming sex shop in just about any neighborhood, with inviting names like "Eden's Garden" or "Enchanted Playground," and friendly, knowledgeable salespeople whose customer service rivals those at Saks Fifth Avenue. Not to mention the cornucopia of online sex shops available for more discreet shoppers.

With so many options available, the power is in your hands to choose a reputable sex shop with quality merchandise and customer service. Whether you're shopping online or the good old-fashioned way, here are four things to consider when finding a place to buy sex products.



Reputation.

Sex shops are businesses just like any other, so they rely on customer satisfaction and word of mouth to attract customers. Ask around to see which sex shops are known for quality products and service and look for things like "City's Best" rankings. If you're shopping online, check out the customer reviews, but be wary of sites that only post positive reviews or don't allow you to leave one too.



Customer service.

A good sex shop will employ friendly salespeople who are knowledgeable about products and are able to help you find exactly what you need without pressuring you to buy expensive products you're not interested in. Online customer service is equally, if not more, important to consider before you make a purchase. Look for websites that provide a phone number that connects you to a real live person and that answer your e-mail questions within 24 hours.



Return policy.

A strict yet fair return policy is a good sign that a sex shop is a reputable business, so always read it carefully before you make a purchase. Only buy from stores that allow you to return defective merchandise but be wary of stores that let you return products or clothing simply because you don't like them; this is usually a sign that they'll repackage the used item for resale. With that said, always inspect the product's packaging for broken security tape or other signs that it's been tampered with.



Cheap vs. quality.

Everyone wants a deal, but cheap prices sometimes equal cheap quality. Conversely, a store that only sells outrageously expensive items is probably overcharging you. Look for a sex shop that sells products for a wide range of prices and has a good return policy.

Between online and brick-and-mortar stores, your choices for buying sex products are virtually endless. Keep the four guidelines mentioned above in mind and you'll never have problems choosing a reputable sex store again.


---