In Sickness: Vowing To An HIV+ Marriage
Marriage vows are to be taken to the fullest extent of their meanings. Meet a couple that looked in the face of a potential killer and said "I do".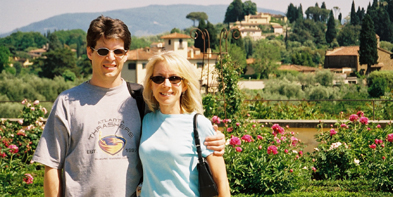 ---
He sat silent, three feet across from her with a puzzled look on his face.

"I have something to tell you," she said in a single flat key breath to the man she had fallen in love with and unwontedly kept in the dark knowing the divulgence of this unmistakable truth could certainly end any future together. "I'm HIV positive."

He looked at her and asked, "but… are you ok?"

Later, Drew Cornutt, 43, fell into a " bit of depression."

Could you blame him? The woman he was falling in love with just dropped a "bit" of shocking news; could he just up and drop all the feelings he had for this woman and leave? How would this work? How would friends and family feel about this? Who could he talk to? Why was this happening?

A short time passed. Susan Cornutt, 45, knew Drew would need some time alone to think. But how much? A week, a month, a year… forever? Fortunately, Susan had an ace in her back pocket. His name was Andreas. He was a mutual friend of the two. Andreas would be the one to help Drew realize that HIV wasn't the end all, be all of their relationship. In fact, it would make them closer than they ever thought possible, and "When he noticed this," says Susan, "is when he said 'I love you' and that he could be supportive of me."

HIV and the '80s
Experts have determined the AIDS virus was first reported, in the United States, in 1981. The term AIDS was not coined until 1982. In the same year, researchers at the Center for Disease Control linked the AIDS virus to blood and bodily fluids. But even in 1983, scientist were still unsure of what was the exact cause of HIV/AIDS saying in a June issue of Morbidity and Mortality Weekly Report (MMWR) that, "The cause of AIDS is unknown, but it seems most likely to be caused by an agent transmitted by intimate sexual contact, through contaminated needles, or, less commonly, by percutaneous inoculation of infectious blood or blood products. No evidence suggests transmission of AIDS by airborne spread. The failure to identify cases among friends relatives, and co-workers of AIDS patients provides further evidence that casual contact offers little or no risk... the occurrence in young infants suggests transmission from an affected mother to a susceptible infant before, during or shortly after birth."

In 1984, Health and Human Services Secretary Margaret Heckler said that Dr. Robert Gallo of the National Cancer Institute had isolated the virus which caused AIDS, that it was named HTLV-III, and that there would soon be a commercially available test able to detect the virus with "essentially 100 percent certainty." The announcement at the time was a major leap for a confused and mislead public. But, there was also preconceived optimism that followed with statements like: "We hope to have a vaccine [against AIDS] ready for testing in about two years."

In 2007, Susan Cornutt, her husband and millions of others are still waiting for that "vaccine." Susan, infected in 1987 by her first husband and the person she describes as a "not so recovering IV drug user," at that time continues to live on and remain emotionally positive, though the regiment isn't all that easy.

A Mile High
Nearly 11 years ago, a newly single Susan Cochran boarded a plane with a girlfriend and twenty-five other people to watch Atlanta's minor league hockey club, the Thrashers face off against the Las Vegas Wranglers. At approximately 30,000 feet she would meet Drew—a wavy brown-haired man with blue eyes that was the "very smart, geeky-computer-guy-type who loves to play ice hockey."

The two became close. The rough and tumble game of hockey was the bridge into each other's hearts. And until that fate-filled flight, her life was becoming ever more rough and tumble everyday. Her first husband had "disappeared," and she was forced to seek a divorce-by-publication—a type of divorce that allows an individual to divorce their spouse when they cannot be located.

It wouldn't take long for Susan to get back on the horse. In fact, "if you want to split hairs, I was divorced and single and engaged for a period of two months… how's that?" says Susan. One year later, they would tie the knot and marry on a beautiful spring day in April. But it wasn't long until the effects of HIV would rear its ugly face, and take both Drew and Susan to the limits of those five simple words, "in sickness and in health." Ultimately, it would be the underlying theme of a man who knowingly took a chance with a sick woman.

More Than Marriage; The Effort it Takes
In a political context, most notably with the President, the honeymoon period is a time when constituents are less demanding and more forgiving of the newly elected official. In marriage, a honeymoon period is a phrase for the early stages and is characterized by greater than typical joy and less than typical friction.

"About two weeks after we got married," recalls Susan, "I was placed on an experimental kind of chemotherapy to elevate my T-cells. It's the same kind of chemo treatment they give people with kidney cancer. I was vomiting. I had a port put in my chest so they could access what they needed to with a needle. Drew was giving me medicine for the nausea and had to be on the phone with the nurse in case I was having a bad reaction."

That was the first eight weeks, and it would last for the next six months.

"This is what our marriage was like," she explains. "Then it was disability. I ran out of sick days at work. It was either stop chemo or stop work, so I stopped work. That was one segment. I've been in the hospital for pneumonia, went into surgery for breast cancer, which I probably got because my immune system couldn't fight back the cancer."

Honeymoon period?

Susan explains that this was a particularly rough time with illness and that it's much better today. Still, a walk to the kitchen cupboard is repeated everyday, and it begins with two injections followed throughout the rest of the day with eight more pills to swallow. "It's so much of what we do everyday, there's no reason to dwell on it. You just incorporate it into your life. It's when you start explaining it to people that you realize what a responsibility it is."

Susan recalls a story about the time she and Drew traveled to Europe with a cooler with some of the drugs that needed to be on ice. "God love him," she regales. "He's walking through the airport with a cooler, carrying it on the plane, so on the fifth day in Budapest I could take it."

They say that any successful marriage must always have compromise. In this case, the word compromise would be detrimental to most marriages. It's been eleven years for Susan and Drew, and the future looks promising. The two rely on stress relievers as a way to be mindful about the day-to-day challenges they both face, and it's also something many couples can take a closer look at regarding their own marriage and their own life. Susan makes it clear, saying "We don't want to get locked where all we talk about is what is happening with me. It's not bad all the time."

The Extended Family; Let's Live Today
Susan explains that HIV causes you to live today, and not have to "plan for vacations only when you're ready to retire." Simply put, it's the balance to look ahead and live in the moment. And the couple hasn't gone this journey alone. From the beginning, there were friends on both sides that would allow them to move forward and create something beautiful.

Like Andreas, who helped Drew in the early stages with his uncertainty, there were also a number of support systems beginning with Drew's family. Again, for Susan, the discloser "thing" was apparent–nervous how they would feel about Drew being in a relationship with an HIV-positive person. "It's just an extra thing you have to do," says Susan. "I mean he already had to tell them that I was divorced. You usually don't have to say, 'my wife has been married before and she's HIV positive and, by the way, she's not working.'"

Another outlet, and perhaps the final marriage decision-making moment was with the help of a group that allowed Susan and other HIV/AIDS suffers to gain the self-empowerment they needed called AIDS Survival Project (ASP, aidssurvivalproject.org).

Committed to providing people living with HIV the most up-to-date information and support they need to lead healthy, productive lives, ASP was founded in Atlanta by a small group of concerned, dedicated people with AIDS. All services are free of charge and at least 50 percent of all participating board members must be HIV positive. Susan remains President.

"Working at ASP is very rewarding, and I feel really valued as a person," says Kevin English, 41, associate director of prevention services. "It's also very rewarding when a stranger walks up to me and says, 'You don't remember me, but you tested me some time ago and I tested positive. You reassured me that I would be alright and I want to thank you for that!'"

Support and reassurance are two things we all need from time to time. As Drew continues to get tested every six months, having tested negative every time, the Cornutt's can be reassured that their love will continue and their marriage will be the support that keeps these two living for today.


---