Jake Gibb
Jake talks about traveling, beach bunnies and his wife's sacrifices.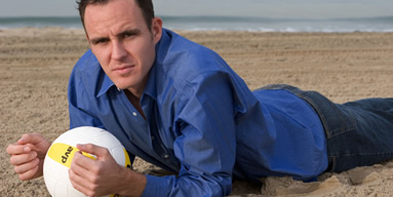 ---
"
I found that being away once in a while made the heart grow fonder—coming back home was always exciting."
MARRIAGE STATS
Spouse: Jane Gibb, 27
Married: 5 years
Kids: 0
Notable: In 2005, Jake,30, led the AVP (Association of Volleyball Professionals) in wins, prize money and points and was named MVP of the tour. That same year, he was also named Rookie of the Year for the FIVB (Federation International de Volleyball) international tour. He and partner Sean Rosenthal are currently ranked third in the U.S. and are working toward making the 2008 Olympic team.

[1] How did you start your career? Jane and I graduated from the University of Utah in 2002, and I was thinking about different careers—I thought maybe I'd go into commercial banking—but then I had the idea to try professional beach volleyball. We moved to California with no money. We had our first month's rent and not the second. Jane took two jobs and said she'd support me while I gave it a try for two years. I had a crazy-fast rise in the AVP. By the end of that second year, I was making money playing volleyball.

[2] And now you're supporting her? I asked her to quit her job so she could travel with me. She was working 50-plus hours a week, and she didn't need to. She'll go back to her career someday, but now we get to go to Paris and Amsterdam [and all over the world].

[3] So you didn't like traveling alone? Traveling alone was fine for a while. When it was just the national tour, I was gone maybe once a month. With the international tour, I've been gone a lot more. I found that being away once in a while made the heart grow fonder—coming back home was always exciting. But being away too much was tough on our marriage.

[4] When you're traveling alone, do you get hit on a lot? It doesn't actually happen a lot. If I wanted that, is it available? Yes. But do I have to swat off the women? No.

[5] You come from a big family and have houseguests all the time. How has that affected your marriage? We have lots of family always staying at our place, and they do drive us crazy sometimes. But mostly it's wonderful that they all want to visit. We both missed our families a lot when we first moved out here, so it's nice to have them around.

[6] What are your plans for the future? My biggest goal is to make the Olympic squad for 2008 in Beijing. We've been traveling internationally and doing what we need to do, and they only take two American teams. Right now, we're number three, so we have to knock off number one or two.

[7] What's the best part of being Jake Gibb? My office. My office is the beach.




---
---
---
Leave a Comment