Give Intimacy This Valentine's Day
Don't be shy. Bring adventure into the bedroom this Valentine's Day and share new experiences.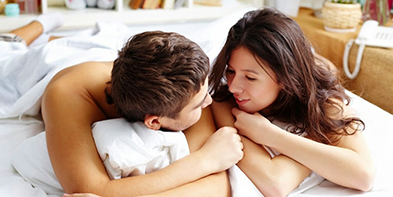 ---
"
Celebrating the day by sharing a new experience together can be more satisfying and can bring couples closer."
R

ecently, intimacy and sex have been talked about more than ever before. Sex has become less of a taboo topic and more mainstream, so it should come as no surprise that conversations about intimacy only grow come February. This Valentine's Day, in particular, is expected to be one of the most intimate because of a perfect storm brewing—the holiday falls on a Saturday, over a long holiday weekend and coincides with a much-anticipated erotic movie launch. In fact, according to a recent survey conducted on behalf of K-Y, 46 percent of those who plan on being intimate on Valentine's Day attributed these specific factors as contributors to their plans for intimacy on Valentine's Day.

With these factors at play, I'm urging couples to take advantage of the extra time over the weekend to try something new together to help build an even stronger relationship. Many couples may not be aware that trying something new stimulates the same chemical reaction as falling in love, something nearly 60 percent of those in committed relationships wish they could recreate, according to the K-Y survey. Add that to the finding that more than a quarter of women admitting to Valentine's Day being the one day of the year where they're not afraid to be a little adventurous and unexpected in the bedroom, and you've got sparks just waiting to be ignited this Valentine's Day.

The problem is that while many couples admitted they would welcome the opportunity to try new things together, including 70 percent of men who said they wish their partner would introduce new things into their marriage, a large amount of men and women admitted they don't know how to introduce something new to their partner.

There are many different ways to introduce new things into a relationship, as simple as picking up some new items at the drug store. Start by sending them a sexy text early in the day promising fun and excitement later. You can set up a romantic scene with music and candles, maybe even some lingerie or try out toys, and incorporate something new that both partners can share in together, such as a lubricant or massage oils. Even a new position or a new location can make a huge difference. With Valentine's Day falling over the extended holiday weekend this year, couples have an opportunity to take advantage and use the extra time in the bedroom to discover new sensations and new ways to mix up their usual routine.

Intimacy is essential for keeping a couple connected and there are many ways couples can build a stronger relationship, improve their sex lives and ultimately heighten their levels of intimacy. Couples shouldn't be afraid to try something new, whether it is in or out of the bedroom, because when you try something new with your partner, you reignite sparks you may not have felt in a while.

Couples often get caught up in the expectations of Valentine's Day, but it's important to remember that the holiday isn't just about gifts like jewelry and flowers. Celebrating the day by sharing a new experience together can be more satisfying and can bring couples closer. In fact, the K-Y survey revealed that 93 percent of those in committed relationships would prefer an experience that can be shared by both partners or a better relationship, over a really good present (7 percent)—so give your spouse the gift of intimacy this year, it may just be their favorite gift of all!

Laura Berman, PhD, is a world renowned sex and relationship educator and therapist; popular TV, radio and Internet host; New York Times best-selling author; and assistant clinical professor of ob-gyn and psychiatry at the Feinberg School of Medicine at Northwestern University in Chicago. Considered a thought leader in her field, Dr. Berman has helped countless couples build stronger relationships, improve their sex lives, and achieve a heightened level of intimacy through her TV and radio shows, books, columns and website, along with her private practice based in Chicago. Dr. Berman is a New York Times best-selling author of many books on sexual health and pleasure, a weekly columnist for the Chicago Sun Times, and host of the radio program "Uncovered with Dr. Laura Berman." She has appeared on Fox News, CNN and the TODAY Show, as well as in The New York Times, USA Today, and every major woman's magazine. Dr. Berman serves on the advisory board for The Dr. Oz Show and is a regular guest on The Steve Harvey Show. Visit www.laurabermanphd.com to learn more.


---