Younger Wives Are More Passive In Money Decisions
A new study shows that Gen X and Y women are less likely to make household financial decisions than current older generations.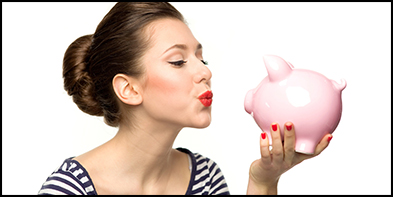 ---
"
The fact that significantly fewer younger women see themselves as financial decision makers in their relationships is a striking finding."
It's no secret that money plays a significant role in marriages. For decades money has been routinely cited as one of the top reasons for divorce.

Ironically though, most couples don't go to marriage counseling because they fight about money. Couples typically overlook the connection between money management and relationship problems, as fights about money are seen as "communication problems," rather than also money management problems.

A 2009 study found that money fights were the best predictor of divorce as written about in this New York Times post, "Money Fights Predict Divorce Rates." The research showed that couples who disagreed about finances once a week were over 30 percent more likely to get divorced than couples who reported disagreeing about finances even a few times a month.

The latest findings from Fidelity Investments' annual Couples Retirement Study "Disconnect Between Couples; Women Less Engaged" shows communication and decision-making patterns in relationships still remain highly problematic around money. They surveyed 808 couples (1,616 individuals) that were either married or in a long-term committed relationship on a variety of financial topics. In addition to Baby Boomers, the survey for the first time included Gen X (ages 35 to 46; or born between 1967 and 1978) and Gen Y couples (ages 25 to 34; or born between 1979 and 1988).

While the Fidelity results confirm that increasingly more women are taking primary responsibility for day-to-day financial decisions (24% up from 15% in 2011), a surprising disparity was found among Gen X and Gen Y wives. One in four Boomer women surveyed (24%) identify themselves as the primary decision maker for day-to-day financial decisions, but only 12% of Gen Y women and 17% of Gen X women defined themselves similarly.

The findings of women who don't work show they are even less involved, with just over one third describing their role in day-to-day financial decisions as "joint" (39% vs. 62%) as opposed to women who work full or part-time. Nearly 4 out of 10 women who don't work say their spouse or significant other is solely responsible for the money decisions (36% vs. 16% of working women).

Even among the working women surveyed, whose average salary was $77,000 and were more likely to share in the financial decision-making, only 2 in 10 (21%) of these women said they are the primary financial decision maker.

The fact that significantly fewer younger women see themselves as financial decision makers in their relationships is a striking finding. One would expect the opposite given the financial independence more younger women experience compared to many of their older counterparts.

Yet the findings found more than half of women who were either Retired (53%) or a Boomer (51%) expressed complete confidence in their ability to assume financial responsibility if necessary, while only 32% of Gen X women and 38% of Gen Y felt the same.

Perhaps age, work and parenting roles could be factors in explaining these differences. With younger women lacking the experience and confidence both with money and in communicating with their partner to exert more influence.

In my experience as a marriage therapist, who also happens to be an Accredited Financial Counselor, and frequently works with couples around money issues, none of these findings are that shocking. I commonly find couples unknowingly acting out their beliefs and feelings about themselves, and their partner, in their money management choices, financial decision-making, and communication around both.

In addition to the common struggle most couples experience in not being able to talk through money matters, I've found that subconscious power and identity issues are being played out simultaneously as well. A common theme in the majority of couples I counsel is a power and decision-making disparity in the relationship that frequently is most prominent around money. This manifests into what they interpret as 'communication problems,' but in reality is so much more.

There could be many reasons as to why Gen X and Y women are not as involved in the money-making household decisions as Boomers, and it's important to note that neither study suggests that Gen X and Y couples are more likely to get divorced because of their less-than-Boomer engagement. In fact, the Fidelity Study notes that 92% of couples in the study agree they communicate well about finances, and 81% describe themselves as one financial entity. However, only 45% of couples agree they make day-to-day decisions jointly and 40% disagree as to the lifestyle they can expect in retirement.

So while couples navigate the various responsibilities of marriage, it's important to remember that healthy, happy and successful marriages require two equally participating partners in all matters of life, especially money.

Kurt Smith, LMFT, LPCC, AFC specializes in counseling men and the women who love them. He is the Director and Lead Counselor at Guy Stuff Counseling & Coaching, a private counseling practice in Roseville, CA. Kurt is sought-after for his expertise in understanding men, their partners and the unique issues they face. He has one of the Top 50 profiles on Google+ with more than 62,000 followers. You can follow Kurt on Google+ here.


---
---
---
Leave a Comment