Ahmed and Julie
Julie Harrington, 35, and Ahmed Mohammed, 29, met online in 2003 and married in Syria in 2004. Ahmed lives in the United Arab Emirates and Julie in California. Even today they depend on email and phone to stay connected living countries apart.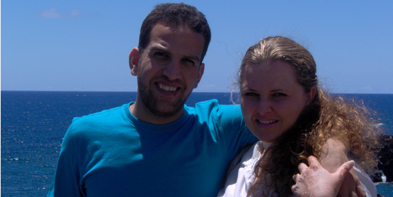 ---
JULIE
Marriage has taught me…
(1) To not get angry and ask questions first. I have to keep in mind that unexpected behaviors and strong emotional reactions are often signs of language and cultural differences.

(2) A fish is the last creature to pay attention to water! People who are members of a culture are usually not aware of critical aspects of their culture and environment. This helps me when I need to communicate to Ahmed about something that bothered or irritated me that he is not aware of.

(3) A temporary long distance marriage requires complete trust of the person. Without that trust, too many negative thoughts come to our heads about each other's whereabouts, who we are with, etcetera

(4) When I get angry, I need to stop immediately and ask myself, "Why?" There must be a misunderstanding, wrong choice of words, and other explanations.

(5) A joke to me can be an insult to my husband. I have learned that our senses of humor can be different—I need to be sensitive before telling a joke!

(6) Not to make assumptions about what he tells me in email or chats—it's impossible to try to assume or guess emotion behind his written words.

(7) Even though we are apart now, I have learned that it's still very important to give and receive advice about health, jobs, family and be very supportive.

(8) Face-to-face contact made all the difference with my in-laws who live in Syria. My limited Arabic makes it challenging for me when calling his family. It's very important to go visit in-laws overseas.

(9) Our relationship can work. As a couple, we can get along together well even though we come from two different worlds that typically don't get along well.

(10) The most important lesson for me is it's our daily reflections on our common basic religious values and morals that help get us through the difficult times while we are apart.

AHMED
Marriage has taught me…
(1) The telephone, our main form of communication, can be our best friend and our worst enemy. Problems with connections, dropped calls and huge time differences are very frustrating.

(2) Keep phone calls short. Try to e-mail a sensitive topic and let her read about it first.

(3) Keep a positive attitude. Think of the good things and stay focused on her bright side.

(4) By nature, women are more talkative than men so I have learned to listen for longer periods of time.

(5) To accept the fact that she has different interests, like scrapbooking, pets, shopping, buying creams, wrapping gifts—things not typically found on my daily "To-Do" list.

(6) To not minimize her feelings, even though I may not agree with her.

(7) To not let negative feelings accumulate inside. To have a more trouble-free life, try to solve any misunderstandings or negative feelings at that moment.

(8) When I married Julie, I also married her family. So the husband and wife should strengthen the ties with each other's family.

(9) The woman's world is totally different from the man's world. Men should always keep this in mind and try not to treat his wife as a man.

(10) Marriage life is not one sided. Both husband and wife have to do their roles and carry out their family duties.


---
---
---
Leave a Comment