Marriage Secrets Revealed Through TV
TV viewing habits may be the answer to some of your relationship's most inner secrets.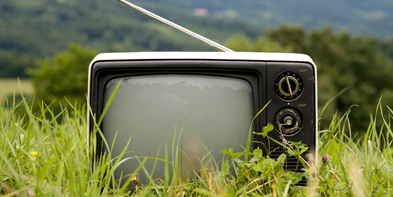 ---
Much of marriage is unspoken communication. For example, a lot can be learned about a person by observing their habits. When it comes to viewing television, there's an insightful vulnerability because people drop their guard. The next time your spouse is plopped in front of the TV, sit back and take note of the pictures being consumed. While their viewing habits may be eclectic, this guide will help translate what the shows watched say about your spouse and how this information can be used to improve your interactions and marriage.



Comedies:

A person who watches comedies is trying to feel positive by perceiving daily life as a sitcom. You can use the different approaches to humor based on the dynamics of gender humor. Never make fun of him, but do laugh at his jokes because he wants your approval. However, a woman can make fun of herself like, "Silly me" and he will melt! Use humor to quickly disarm negativity even in the middle of a heated argument. Laughter in the bedroom is a real turn on for the comedy viewer because laughter releases stress and increases endorphins. Initiate sex with a pillow fight or tickling.



Sports:

This is a goal-oriented person. Your spouse really wants to please you and make sure that you are fulfilled. Discuss important matters side by side while you are both active: jogging, bicycling, hiking or painting a room. This person releases stress and thinks better when he or she has a physical outlet. A sports fan does not like to feel cornered. You are lucky because your lover enjoys sex and wants a partner to enjoy it too.



Reality Shows:

This viewer is concrete, down to earth and not attracted to fantasy. He or she is an observer of human nature and learns through imitation. This person is likely to be competitive, and looking for validated success—acknowledge it. Celebrity stories provide a springboard for conversation and behavior. Remove your mask and be honest about your feelings. Update special rituals for just the two of you.



News:

He or she is straightforward, basic and likes to read the fine print. This person needs structure, so don't surprise him or her with unstructured fun. However, do expose him or her to little adventures. The enjoyment will be enormous. Remember to speak literally and not metaphorically. Another plus is you will get consistency in this relationship.



Drama:

This viewer thrives on romance and is in love with the idea of love, especially its highs and lows. It's good to be emotional and use metaphors. Use your hands to emphasize your points. Go on and have a good fight! Kissing and making-up are part of the rhythm of this relationship. So activate your flair for fantasy—verbally, and don't forget to dress boldly.



Home Improvement TV:

This viewer likes the nuts and bolts of things and relationships. Too much makeup or formality is a turn off. Working on your self-growth improves this marriage. The outdoors and green living are core values. Restoration as opposed to throwing things away is a high priority. Create a bedroom retreat to jumpstart romance and it doesn't have to be expensive; in fact, design on a dime is most desirable.



Adventure & Discovery:

He or she is an explorer and loves to change it up. Routine will deaden this heart and cause your beloved to wander away on a solo journey. Travel together to new places, sample new experiences and make sure to change your look periodically. For a heart-to-heart conversation, visit the amusement park!

Debbie Mandel, MA is the author of "Addicted to Stress: A Woman's 7 Step Program to Reclaim Joy and Spontaneity in Life", "Changing Habits: The Caregivers' Total Workout" and "Turn On Your Inner Light: Fitness for Body, Mind and Soul," a stress-reduction specialist, motivational speaker and mind/body lecturer. She is the host of the weekly Turn On Your Inner Light Show on WGBB AM1240 in New York City, produces a weekly wellness newsletter, and has been featured on radio/ TV and print media. To learn more visit: www.turnonyourinnerlight.com.


---
---
---
Leave a Comment