The "Unbirthday" Gift Guide
6 gifts that say I love you just because.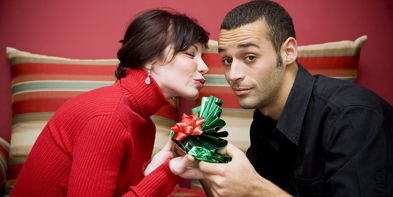 ---
Statistics prove, prove that you've one birthday / One birthday every year / But there are three hundred and sixty-four unbirthday's / That is why we're gathered here to cheer. / A very merry unbirthday to you!

The Unbirthday Song, made famous by the Walt Disney's film Alice In Wonderland tells a tale of celebration for the sake of celebrating.

Radical? Perhaps, but as a licensed therapist, life coach and die hard Disney fan, I must admit the "unbirthday" concept should hardly be seen as the work of the "extremist spouse." What does it feel like to get something special for no reason at all? Even the heart of a macho guy skips a beat when he pulls into the garage only to find a new set of power tools has just, "shown up."

"Romance is not something assigned to a few special days of the year. My heart sings when he does something just because," says Lorraine Roth, a successful commercial actor.

As for the men folk, they feel it too. Celebrity personal trainer, Luis Perez hears it all the time from his male clients— "boys will be boys but men like to be spoiled as well," he remarks.

So creating an Unbirthday Gift Guide seems the only responsible thing to do. What makes this a unique gift guide? How about some insight from the people who had the courage to answer my call to action and share in the Unbirthday celebration?

The Big Easy—romance with no oil required: This oil-less fryer has amazing infrared cooking technology, which allows for even heat distribution. Available at Home Depot, Lowes, Dick's Sporting Goods, and Academy Sports, your husband will love using the infrared technology to cook that turkey. How's that for unique? The folks at Char-Broil told me if you have an outdoor chef that you love it's a fantastic, "just because" gift. As a gift-giver you make your significant other the star of the show.

A personalized flip book: I must admit that when Linda Muncy, director of KC Flip Books (www.kcflipbooks.com), contacted me I didn't know what to expect. But when she explained that for her spontaneous romance shows, "Your spouse is in your loving thoughts," I knew her passion and her flipbooks where proof that creativity does not have to cost much—it is just part of the romantic equation.

Taking love on the road: While one may argue that a computer bag is not the height of romance, Peter Belisi, creative director of Belisi Fashions (www.belisi.com ) explains that, "Romance is an expression of a desire to connect, and that connection often feels 'scheduled' as our lives become more complicated." Having experienced the laptop bag personally, while it costs a bit more than some, it is a classic piece that does the job with style.

An individualized romance package: Love is not always wrapped up in a neat little package, but at least it can be with Creations of Love Inc. (www.creationsofloveinc.com). The coolest idea is that the Create-it-Yourself package allows a couple to have all the elements with them to decorate on their own and surprise their spouse.

Responsible romance: Through Oxfam America Unwrapped, shoppers looking to give gifts with a heart can make a difference in the fight against poverty and climate change. The offerings are delightful, insightful and quirky. These items are essential to saving lives in the wake of disaster or conflict. Check out the full list of gifts available online at: oxfamamericaunwrapped.com. The gift of sound to support sight: Born with glaucoma, given up for adoption, blind by twelve, a high school drop-out, Dennis Holston bootstrapped his way to a successful life and has created the, Sound in Sight CD from the Performing Arts Division of the National Federation of the Blind, www.padnfb.org. A true gift of love that keeps on giving.

Joshua Estrin has a dual master's degree in social administration and clinical therapy. He is a life coach and author of "Shut Up! and Listen to Yourself." Joshua is a regular contributing guest on CNN, FOX, FOX News, Good Morning America and hundreds of radio shows across the nation. He has acquired a following that believe in the anti-expert, anti-self help concept and in turn the model of action, ability and awareness that are at the core of this movement.


---
---
---
Leave a Comment