No One Starts Arguments, No One Wins Arguments
At what cost will being right in an argument have on your marriage.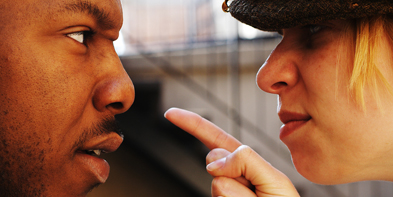 ---
More often than not, flash-fire arguments are a result of long-standing conflicts that are not being addressed and are excuses to dance around deep, core issues. Assigning blame for starting these arguments misses the issue. A couple must learn how to see through arguments to the person behind them.

For instance, let's say that one person in a relationship is mad that the other is doing something that reflects a deep and entrenched part of their personality. Let's say that this person is worried and concerned that a partner never opens up about personal feelings, but instead clams up and gets cold whenever the subject of emotions, frustrations or secret desires is brought up.

However, the angry partner feels unable to talk about this issue and so finds yet another issue to bring up, like who took out the trash last time. And the trash becomes the focus of a raging argument.

One moment a happy couple is sitting around eating a nice meal together, and the next moment each person is screaming at the other, red in the face, no longer remembering what triggered the initial blast of anger. Even worse, they're not able to understand or articulate feeling so strongly about something so silly.

One of the most important things a couple can do together is to seek out unconventional methods for getting to know one another better in order to strip down the walls and barriers and get deeper into the hidden springs of motivation, fears, acting-out behaviors, desires, judgments and dreams.

Arguments are not a result of somebody being wrong—arguments are a result of two people who are "right" coming into conflict because of different standards, different goals and different methods for achieving ends. And we all know that nobody ever "wins" an argument. Even if a person is clearly right about some fact or another, will that really matter when it crushes the person they love most?

In order to find out the way in which your partner will respond to the hidden frictions inside you, you have to clarify and explain these frictions. You have to analyze yourself, and analyze your partner to find out exactly what makes each of you behave in the way that you do. You need to address how such behaviors are motivated by irrational fears, rational desires and patterns of action and reaction that will probably never change.

You owe it to your partner and you owe it to your marriage to turn petty arguments into an opportunity for deep connection. You can either both be wrong and mad, or you can both be right and happy.

Taking over for her father, Dr. Roger Birkman, in 2001, Sharon Birkman Fink is President and CEO of Birkman International, Inc. providing a unique assessment tool that accurately measures internal needs, behaviors, occupational preferences and organizational strengths. She can be reached at 713-623-2760 or sfink@birkman.com.


---
---
---
Leave a Comment