Engage Your Banker
Even if you deal with other financial professionals, your banker needs to be part of the mix.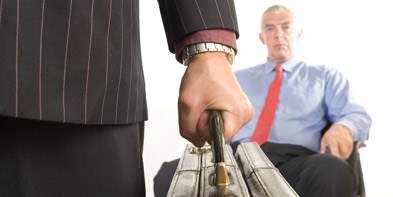 ---
You don't have to make the big bucks to look at the big picture. It can be difficult to carve time out of busy schedules to meet with your banker, but you'll be glad you did. You see, many folks, especially married couples, deal with financial issues on a case-by-case basis rather than looking at their larger financial situation.

It is crucial to have a solid relationship with your banker before a crisis or emergency arises. By establishing such, you'll know where you stand financially and your banker and other advisors will be better prepared to help create quick, customized solutions.

Create the Relationship
A good way to establish a relationship with your banker is by instituting an annual review. Once a year, schedule a time to sit down and make sure he or she knows about your overall financial situation, including debts you may have outside the bank, who your financial planner is, short- and long-term goals and more.

Also, be prepared with questions; use your banker as a sounding board. Your questions may be relatively minor—like something to do with a particular fee you pay. Or the question might be larger: How can you help me achieve this specific financial goal?

Of course, if you're saying, "But I don't have a personal banker," that's a good place to start. Indeed, you need to have a specific contact or two within your bank. You should know them by name and on sight and vice versa.

At a smaller "community bank" this may be simpler than at a big bank, but it should be possible at most any bank. If it doesn't seem to be possible to get to know a personal banker, it may be time to shop around.

But Why Build the Relationship?
If you have an accountant, financial advisor or other professional who helps handle your finances, why do you need to get to know your banker? For the same reason you would want your physician to talk to medical specialists for specific problems; they can work together to best serve your needs, anticipate problems and identify solutions that may not have occurred to you or one of your other advisors.

It's especially important for couples to sit down and review finances together, including their basic banking, to ensure they're on the same page. They can reconcile any differences in money management style and clearly define an agreed upon game plan.

And, most bankers have established allies on whom they can call should you need other assistance. For instance, if you don't have a financial planner and you need one, a well-connected banker could help you find one. More importantly, they can help you decide just what kind of assistance you need.

I've found that once people develop an active relationship with their banker, they like it.

Brent Adams is the Senior Vice President and Relationship Manager at Private Bank of Buckhead in Atlanta. He has more than 20 years' experience in banking—specializing in long-term banking relationships. Brent can be reached at 404-264-7963, or through the bank's website, www.PrivateBankofBuckhead.com.


---
---
---
Leave a Comment