A "Simpson" Attraction
How in the world have Homer and Marge Simpson made it this long in their marriage? Read on and see why Homer and Marge Simpson are a perfect fit.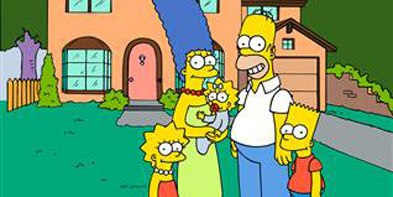 ---
It's been 20 years since Matt Groening conceived America's number one nuclear family "The Simpsons" on a paper napkin in 1987 after refusing to sell his "Life in Hell" series to the Fox Corporation. Now the longest running sitcom ever, 18-plus years, has a movie out and Simpson mania couldn't possibly be on a larger scale; it's so large in fact that the 7-Eleven franchise has converted many of its stores into the fictional Simpson-style convenience store the Kwik-E-Mart.

But, besides all the hype that surrounds the show, which basically shaped popular culture for the next eternity and kept a network afloat during the 90's, The Simpsons have persevered and offset typical family sitcoms by presenting a family that wasn't the type of straight-forward perfection depicted in shows like "Full House" and the "Cosby Show," during its inception. All d'ohs aside, The Simpsons were the complete opposite; a family consisting of an underachieving son, Bart; his overachieving sister, Lisa; and their18-year-old-still-has-trouble-walking-baby-sister, Maggie.

Then we have Homer and Marge Simpson, the definition of the term "opposites attract."

So, what makes these two remain happily married? Hitchedmag.com's resident expert Dr. Scott Haltzman says, "People are drawn to people who complement the less-developed areas of our own personality. When people marry, they often choose a partner that fills a part of them they lack. The neatnick finds the slob's carefree attitude appealing; the artist finds a sense of safety in the assertive confidence exuded by the type-A dragon slayer."

Over the past 18 years, Haltzman's remarks couldn't ring more true. For instance, although Homer does perform acts that reveal him to be a loving father and husband, there are countless other times when his frequent stupidity, laziness and explosive anger hark upon his family and Springfield as a whole. Suffice to say, Marge also has her moments as the stereotypical sitcom mother with high morals. Whether it's trying to get Homer to go to church instead of watching the game, chiming in on his drinking and time spent at Moe's tavern or his overall laziness, Marge finds solace in the little things he does. In the episode, "A Milhouse Divided," Homer arranges a surprise second wedding, hires one of the "Doobie Brothers" for the wedding band, divorces Marge and weds her again to makeup for their lousy first wedding.

"For whatever reason, in many cases the stereotype is true, and appears even more dramatic because we tend to take our similarities for granted," says Dr. Haltzman. "Because we already agree on what we agree on, it's the differences that make for the tension, and the vibrancy, of marriage."

So, with that said, in marriage and in life we as living people—or two proverbial yellow characters with voices not their own—can now see that the stereotype deemed, "opposites attract" does make sense and is what makes us love one another… all d'ohs aside.


---
---
---
Leave a Comment