Improve Your Fiscal Fitness
Spencer D. Sherman describes how a garden and a home purchase led to greater financial intimacy in his marriage, and what you can do to let money bring you closer in yours.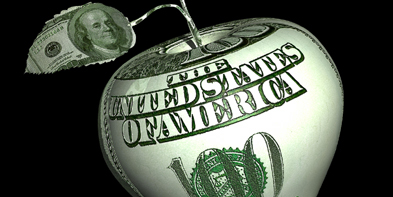 ---
Most of us would rather ask a friend, "Who did you sleep with last night?" than ask how much money he or she made last year. The subject of money is a social taboo and the gag order on discussing money matters undeniably affects our intimate relationships. Given that money problems are always cited as a top reason for divorce, it is important to get a leg up on the fiscal fitness of your marriage. As is the case when we take up an exercise program, a bit of discomfort can produce significant results. My discomfort did just that the day my wife Janine and I first saw the house we now call home.

Giggling with excitement when she walked through the French doors into the wildly overgrown backyard, Janine said, "Plenty of space to put in a garden." I could tell by the look in her eye that she wasn't imagining a few terra cotta pots filled with geraniums. A full-blown garden full of rare roses and organic fruits and vegetables, complete with pond and multiple tiers had instantly blossomed in her mind. I've always had a deep appreciation for my wife's colorful imagination, but on that windy autumn day all I could see was a deep pile of receipts.

I looked away, hoping the garden idea would decompose, thinking: Don't let on that we can afford it; she'll order half the Smith & Hawken store before we close escrow!

At that stage in our relationship, all of our financial information was my carefully guarded secret. In my family, the primary message about money had been: "Don't talk about it." In the absence of clear and conscious money talk, that early message translated into sullen, silent scrutiny when it came to Janine's spending habits. Perhaps it was the juxtaposition of my wife's obvious pleasure and my obvious distress that broke the trance that afternoon. Janine thrilled at the thought of working the soil, picking out and planting seeds, and watching the first tender green leaves peak up through the earth. With delicious anticipation, she looked forward to harvesting salad greens, tomatoes, and fresh herbs out of the backyard for our dinner. Meanwhile, I stood by with a grinch-like scowl on my face. What was that all about?

I knew from experience that shifting my beliefs could completely alter my experience; I also knew that denying my feelings and sweeping them under the sod would not. So I took a slow stroll around the side of the house and stayed with my feelings. What does this feeling want me to know? I asked. I scanned my body, relaxed my mind and allowed my awareness to do a full sweep. Almost immediately, a memory of my father came to mind. I watched him flinch when the eight-year-old me asked, "How much money do you make, Dad?" The look of disdain on my father's face nipped that conversation in the bud—for good.

Once I made the connection between my difficult feelings and my childhood experience that taught me never to mention finances aloud, I was able to take a deep breath, relax and open to the feelings and sensations. Immediately, a sense of spaciousness filled my mind. The feelings were difficult, but they were also very familiar. This little bit of distance from my discomfort allowed me to slip out of my financial straightjacket. All of a sudden, I was much less averse to the expense of the garden.

From this place of openness I again checked in with my feelings. A new thought came: A garden would increase the property value. That was predictable; my mind is ever watchful when it comes to the bottom line. Then, following on that, I realized that a garden would be a sanctuary, a place to revive myself at the end of a long workday. I also loved the idea of harvesting my own food. My thinking expanded as I imagined hosting community events in the garden and working on outdoor projects or finding frogs with my children. I walked back toward Janine and said, "Actually, honey, we can afford a garden."

Today, I enjoy the garden's ordinary miracles on a daily basis. I no longer feel compelled to build our family's fiscal muscle in self-imposed isolation, and Janine and I agree: Our garden is the best investment we ever made and we would sell the house before we'd sell the garden.

Here are two simple suggestions to help you improve the fiscal fitness of your relationship:
Share your most significant childhood "money memory." These early impressions are often quite revealing. Include what you remember about how your parents handled money.
Build into your relationship a weekly check-in about money. This is the time to share the small stuff of everyday life: "I'm thinking of buying a new bike," or, "My commission check will be on the low end at the first of the month." Short check-ins will help you keep your finger on each other's fiscal pulse. Then, longer conversations for bigger decisions become easier when you have this intimate bond around expenses and expenditures week to week.
Ironically, money conversations have helped create the deepest intimacy my clients have ever experienced with their partners. Money really is the ultimate aphrodisiac.

Spencer D. Sherman is CEO of Abacus Wealth Partners; a leader of workshops on financial intimacy for couples; and author of "The Cure For Money Madness," which will be published in 2009 by Doubleday Broadway Books. Visit Spencer's website at www.curemoneymadness.com.


---
---
---
Leave a Comment