Love and Marriage? What about Credit and Marriage?
Working to establish a life together? A new report shows credit scores might not match goals.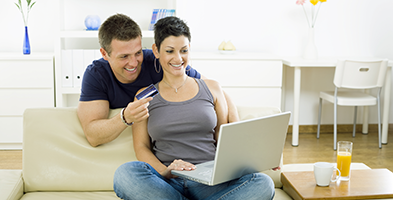 ---
"
Spouses also differ on how much money they will spend before telling their significant other."
M

out people don't think of credit when they think of their love life – but maybe they should. A new report from Experian shows that credit plays a key role in all new marriages as couples work to establish a life together. From securing an auto loan to buying that dream home, credit can ultimately impact a couple's ability to pursue and achieve their life goals.

So why is credit having such a large impact? The answer could lie in the fact that couples don't seem to be having the needed financial conversations. In fact, 40 percent of all survey respondents said they did not even know their spouse's credit score before getting married. Another 25 percent did not know their spouse's annual income, and 31 percent did not know the amount of their spouses' student loan debt.

In addition to their financial profile, couples also seem to be in the dark when it comes to the way their spouse spends money, with one in three newlyweds reporting that their spouse's spending habits are different than what they expected. Spouses also differ on how much money they will spend before telling their significant other. Men surveyed said they would spend an average of $1,259, while women averaged $383 before telling their spouse.

Couples should also be sure to check their credit scores together before getting married. In fact, 39 percent reported that credit scores have already been a source of stress in their marriage as newlyweds. Credit scores can have such a dramatic impact on one's ability to secure a loan, it's important to understand where you and your spouse stand so you are not surprised when lenders react to your loan application down the road. And if your credit leaves something to be desired, having checked your credit early will give you time to work on your score and hone your credit skills.

Since life as a newlywed is busy enough, we recommend using a credit monitoring service to make monitoring your credit a seamless process. Most of these services will provide you and your spouse updates on your credit scores and reports so you can stay on top of how your new joint accounts and loans are affecting your scores. The more open you and your future spouse are before walking down the aisle, the better chance you'll give yourself at achieving your financial goals in the future, as well as avoiding some future arguments about finances as well.



Related Articles


Your Credit Report: A Complete Guide
A Quick Credit Score Guide for Millennials
3 Reasons Bad Credit Can Bungle Even the Best Relationships

Sandra A. Bernardo is manager of Public Relations and Consumer Education at Experian Consumer Services, a division of Experian, the nation's largest credit bureau. In her role, she manages publicity efforts and outreach campaigns to generate awareness and understanding about credit.  Prior to Experian, she has held positions in the corporate and agency sectors in public and community relations.


---
---
---
Leave a Comment