Bottled Up
Have you ever regretted telling your spouse something about your past experiences or past relationships? Dr. Fiore explains the dangers and benefits of revealing and not revealing your past to your spouse.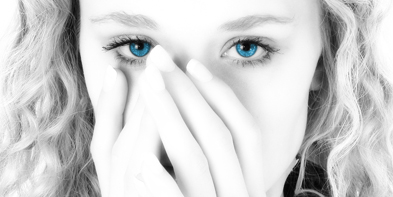 ---
Why do I worry about telling my spouse about my past?

To help answer this question I'd like to share a story of a client of mine. Shirley's husband, Phil, was very suspicious about her activities, and, when they were apart, he'd keep checking up on her. Then he'd interrogate her about former boyfriends and ask a dozen questions about whom she found attractive when they were out to dinner or a social event. Phil was a very successful businessman but was understandably insecure because his former wife had cheated on him and he didn't have a clue. He could not trust himself to know what was really going on. The more details Shirley would give Phil about her past, the more he wanted to know. His worries, insecurities and his need to control her were insatiable. Things didn't improve until Shirley used the strategies outlined below.

Stop trying to cure this kind of insecurity by talking about your past. They'll only want more details. What your spouse really wants to know is "Do you love me? Can I trust you? Can I trust myself to know that I chose the right person?"

Typically, men will want to know "Am I the best lover you ever had?" The safe answer is to say, "Yes. No one compares with you." For women, they want to know, "Do you find me more attractive than anyone else? Am I the one you think of throughout the day?" The safe answer here is to say "Yes, sweetheart, I'm constantly thinking of you and of making love with you."

While many professionals will tell you to talk about your experiences and feelings to your spouse, it's often a mistake to repeat traumatic and stressful events in your home. First, there's no need for you to re-experience the event outside of therapy. Second, your spouse may try to help you or try to solve a problem rather listen, understand and have compassion for you. And, both of you will feel frustrated and angry. Third, you will spoil the serenity and sanctuary of your home with these traumatic memories.

Certainly talk to your spouse about what's going on in your life now and be honest about negative events. But avoid going into the details that might cause you to feel stressed. Tell your spouse, "Let's talk about us and what we can do together now. This is it. This is the only time we have together to build our own experiences together. Let's make the most of it, now!

Neil Fiore, PhD is a psychologist, coach, speaker, and author of "Awaken Your Strongest Self: Break Free of Stress, Inner Conflict, and Self-Sabotage" and "The Now Habit". For more about Neil's latest book, free tips and articles, and his motivational newsletter, go to www.neilfiore.com.


---
---
---
Leave a Comment