Take the Financial Pressures Off Your Marriage
Financial problems can be tough, but don't let them define or destroy your marriage. Use these tips to build momentum and tackle your finances together.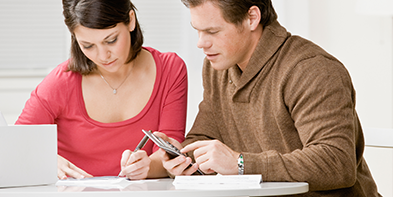 ---
"
In the most successful marriages both spouses take full responsibility for their [financial] situation, without laying blame on the other or burying their head in the sand."
Financial pressures are without doubt one of the biggest causes of conflict in a marriage. Many couples cite money problems as the single biggest cause of arguments, conflict and unhappiness in their relationship. Learning to separate out your financial challenges from your relationship is one of the best things you can do for your marriage. Here are some ways to do that.

First, assume joint responsibility for your financial situation. Many times one person can feel resentful towards the other if they feel they are bearing most (if not all) of the financial burden. Perhaps one feels they are trying to control the finances while the other doesn't want to know about it or continues to spend freely. In the most successful marriages both spouses take full responsibility for their situation, without laying blame on the other or burying their head in the sand.

Sit down together and agree that you are both responsible equally for your situation, and that you'll both work together to deal with your problems.

Acknowledge where you are financially right now. Trying to deny that you have financial problems or just hoping that somehow they will go away is not going to do you any good. In fact, it will probably make your situation worse. You need to take an objective look at your financial position and where the problems are. Work together to get a clear picture of your situation, including the causes (as you see them) of the problems. How much debt do you have? What are your expenses? Are your expenses higher than your income?

These are all important question to answer. It's only when you know exactly where you are now that you can change where you are in the future.



Set Goals Together



Another common characteristic of great marriages is that the couple has shared goals. Goal setting is very powerful and you should have goals for your life, as well as your marriage. Think about where the two of you would like to be in six months, a year and five years from now. What are some of the things you would like to do? How would you like to be? Include some financial goals, such as reducing your debts and expenses and increasing your income, but make sure you also have some lifestyle goals.

Common goals energize a relationship. Knowing what you want to achieve—and that many align with what your spouse wants—will bring the two of you closer together and makes your marriage a shared journey. You'll be more positive about your life and your marriage, and less focused on your problems.



Create A Plan



Once you accept equal responsibility for your situation, you know where you are and you know where you want to be, it's time to create a plan. How are you going to get there? You don't need to know every last step, but creating plans will show you that your goals are achievable.

Act on our plans. Now that you know what you are going to do, get started. Take the first step together, and then the next one. By taking action and doing something about your problems, you not only have the greatest chance of actually solving them, you also create new momentum in your marriage. This is where the fun really begins!

Realize What's Really Important

There are always two sides to life. If you are stressed by your financial problems and it is taking a toll on your marriage try this: stop and write down 20 things you are grateful for in your life right now. Once you do this you will see your "problems" in a different light. You will realize just how lucky you are to be in your marriage right now and that problems of any kind (including financial) are simply potholes in the road of life—they are to be navigated through and not the determining factor in the road you take.

Liam Naden is a marriage and relationships coach specializing in helping couples to save their marriage from divorce. He is a best-selling author of more than 20 books, host of the Growing in Love for Life podcast, the creator of three online programs and a speaker and workshop presenter. You can get more information at his website liamnaden.com and follow him on Google+.


---
---
---
Leave a Comment