Fruit & Fertility
A new study finds that fruits and vegetables may be key to male fertility.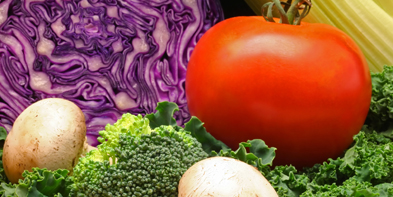 ---
Even if you didn't listen when you were a kid, at some point you knew the knowledge your mother instilled upon you might pay off one day. For instance, remember sitting at the dinner table and starring down your vegetables like you were about to take aim with Jesse James at high noon. Well, if you lost the gunfight and ate your vegetables, probably on the account of your mother, your sperm would be swimmin' strong a new study suggests.

But even if you didn't eat fruit and vegetables as a kid, researchers say that it's not too late to have supper fertile sperm. Presented at the 62nd Annual Meeting of the American Society for Reproductive Medicine (ASRM) a study out of Rochester, New York claims there is an association between diet and semen quality. The study took forty-eight infertile men and 10 fertile men who had fathered children within the last year and had them fill out a questionnaire to characterize their diets.

Results showed that 83 percent of the infertile men had low dietary intakes of fruits and veggies (fewer than five servings a day) versus 40 percent of fertile men. Generally speaking, men who ate the fewest fruits and vegetables had the lowest sperm.

President-elect of the ASRM Dr. Steven Ory says that, "Nutrition and nutritional supplements are of growing importance in reproductive medicine. This kind of research will help us better understand the impact of nutrition on reproductive health."

Study author Dr. Vivian Lewis said the antioxidants like glutathione and cryptoxanthin, prevalent in brightly colored produce such as leafy greens, tomatoes, peppers and oranges, are associated with strong, healthy sperm.

So the next time you catch yourself passing on the good-for-you-stuff, just remember that you could be giving your baby batter the wrong directions.


---