Sex, Talk & the Healthy Marriage
Let down your guard and push your vulnerabilities aside. It's time to let intimacy drive desire back into the bedroom.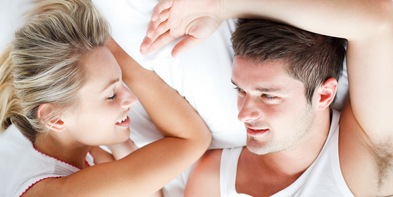 ---
"
If the conversation you are sharing with your spouse is limited to superficial daily information, such as the news or the kid's schoolwork, you are not going deep enough."
With a click of a mouse, you can do a simple web search and discover that healthy sex—is actually healthful! You will find that sex can be good for your heart. You will also find that sex lowers blood pressure, reduces risk of prostate cancer, improves mood, sleep and even complexion!

Sex, it would seem is the ultimate mind/body exercise. In fact, when sex is "healthy," we could go so far as to say that it improves family relations, happiness at work and overall well-being.

The Kinsey Institute reports that while some married couples have sex as infrequently as 10-12 times per year, a much greater percentage of married couples have sex at least once per week. The report, however, does not discuss the overall satisfaction with the sexual experience.

In order for us to begin talking about a healthful sexual experience we have to address satisfaction. In this case, satisfaction doesn't necessarily mean orgasm. Here we are talking about emotional satisfaction that both partners share as part of this deeply personal sexual experience.

Often over time, the quality of our sexual experience in marriage can diminish. Stress, children, health issues, and the busy-ness of daily life can cause our enthusiasm in the bedroom to wane. Couples begin to just "have sex" without the pleasure of true intimacy.

There are many "how to" manuals that talk about foreplay and the art of pleasuring your partner. One of the regular tips is "sex talk," whispering those dirty little messages into your lover's ear to send them to the next level of excitement.

Unfortunately, many people don't feel comfortable verbalizing those nasty little nothings, even if it is a whisper—and even if only our lover can hear. The good news is that it is not just those sweet nothings that improve our sex lives! Participating in honest, sincere conversation will do. In fact it may do much better.

Most of us, men and women, agree. The feeling of intimacy begins with honest communication; the sharing of feelings, fears, frustrations and joy allow us to lower our barriers and develop an intimate relationship based on trust.

You probably don't want to wait until you are in the heat of the moment to bring up fears associated with your job. But having quiet moments (without children, television, smartphones or other external distractors) can be the prelude to foreplay or the relaxed conclusion to afterplay. What is afterplay? It is the precious time you share afterward that will ensure there will be another encounter. It could be considered pre-pre-foreplay. And believe me, it is important!

If the conversation you are sharing with your spouse is limited to superficial daily information, such as the news or the kid's schoolwork, you are not going deep enough. Ask how your husband or wife is feeling; what is troubling them and why. Find topics that are meaningful to both of you.

Finally, sharing of feelings must be mutual. If both parties don't share there is no trust—you have missed the point. Both partners have to allow themselves to be vulnerable— exposed as it were. Sometimes this level of exposure is more uncomfortable than taking your clothes off, but it is the naked truth that will take your level of sexual intimacy to a new high.

Dr. Mary Jayne Rogers is an Exercise Physiologist specializing in whole-person wellness and fitness education and instruction. As an educator, Mary Jayne brings multi-dimensional wellness and fitness experiences along with a welcoming and genuine teaching style to inspire students and wellness enthusiasts of all ages.  Dr. Rogers is the owner of Profound Wellness LLC. You can find more information at www.doctormaryjayne.com.


---