Bringing New Sex Into the Bedroom
A reader fears that if she doesn't agree to take their sex life to a new and different level he will wander. Dr. Greco offers the following sound advice.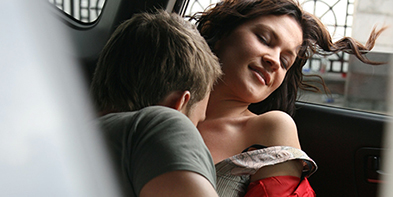 ---
"
It is natural to find toys intimidating at first, but the more you play, the safer you will feelÖ"
My husband wants to experiment in the bedroom. We've been together for six years and married for nearly four years. I am happy and satisfied with our sex life. We make love about three times per week and I think that's great considering the fact that we have two toddlers and lots going on. I'm wondering if he's thinking of wandering. If I don't want to experiment, Iím afraid he'll go somewhere else. He doesn't want to do anything outrageous or frightening, but I'm just out of my comfort zone. What to do?

Mutually pleasing sexual intimacy is a vital aspect of a successful marriage. With busy schedules and young children in the home, it can be difficult to devote one anotherís all-too-precious emotional and physical resources to this important area.

Given the hectic schedules you both endure on a daily basis, I want to applaud you for finding the time and energy to make love three times each week! Thatís actually a pretty well-rounded number for couples on the go. It seems, however, that your husband would appreciate adventuring into some new territory on the sexual front and that you might be worried that if you donít participate, heíll try and find it somewhere else. Even though your husband is not proposing any wild or frightening activities, it can be scary to venture outside of your comfort zone.

It is a great sign that your husband feels comfortable enough to talk with you about his desires. This tells me that he feels safe with you and that you two generally have good communication skills. This is important because you have a great foundation to build on and a jumping off point to move forward.



Getting Started


First, I would suggest that you find a babysitter for the little ones and create a romantic, no-pressure evening for the two of you. Talk with your husband about your desire to have some time with him to talk about your sexual relationship without pressure to move forward into new areas right away. Then, with the pressure off, the two of you can have a relaxed night to talk, snuggle and play. Remember, the key word is "play!" It is often the pressure to move too quickly into something new that is the biggest obstacle!

Now, after one or two romantic "play nights" together, you might invite your sweetie to look at an intimate book with you (one that shows new positions, etc.), and slowly move toward trying one or two new moves that look inviting.

Intimate toys, too, can be fun additions to a healthy sexual relationship. It is natural to find toys intimidating at first, but the more you play, the safer you will feel about broadening your horizons.

As to your fear that your husband will look elsewhere, discuss your fears with him openly! Besides, once you tap into the sexy, adventurous woman inside of you, your husband wonít think twice about wandering. As Paul Newman remarked after being asked if he was tempted to stray from his wife, "I have steak at home, why go out for hamburger?"

Dr. Carla Marie Greco has her Ph.D. in Clinical Psychology and a private practice in Santa Rosa, California. Dr. Greco specializes in the treatment of anxiety, trauma, depression, grief, and life transition issues. Her greatest goal is to offer services to those in need, offering select appointments on a "sliding scale" for those who have serious financial constraints. Pro bono services, including EMDR, are available for our veterans suffering from issues such as combat-related Post Traumatic Stress Disorder and Complex PTSD. Dr. Greco is a member of the American Psychological Association and the Redwood Psychological Association. For more, visit www.drcarlagreco.com.


---