Educated Investment
When couples plan to have kids, they usually begin thinking about how they can afford their education. Here's a creative plan to make your baby shower an investment shower.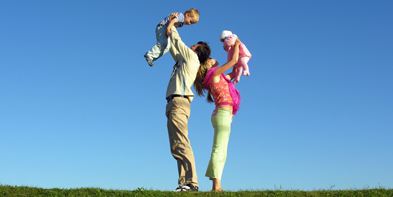 ---
We're planning to start a family. How can we prepare financially for our baby's future education?

You've got everything in place. You have job security, a roof over your head and a couple cars. So what now? For many, it's a little bundle of joy, or two or three and soon your cool car becomes a mini van. And it's important to be prepared and not get caught in a financial bind because although the joys and rewards of parenting cannot be measured in dollars, the financial impact of having a baby can.

The U.S. Department of Agriculture says that a middle-income family will spend more than $250,000 to raise a child—and that total does not include items such as private schools, infertility treatments or music lessons. College costs alone can add another $100,000 to $300,000. While each couple is unique, the most typical concern for new or expectant parents is how to manage the expenses that come with a baby while not disrupting their retirement plans or significantly altering the family's quality of life.

No matter what stage of life your family is in, it is essential to have a financial strategy. The most important step you can take is creating a wealth management plan that will help keep you on track with respect to savings and cash management. A financial advisor can help a couple identify what their family's short- and long-term goals are in order to meet the needs of their growing family.

One idea is to hit up the loved ones. Typically, they are only too eager to shower an expectant couple with gifts for the baby. But rather than registering for baby gifts, new parents can ask their friends and family to invest in their child's future by contributing to an education savings fund for the child. As soon as the child is born, an education savings account or Section 529 plan can be set up. Friends and family will be able to contribute to something truly meaningful that will last well beyond the child's need for a toy or stuffed animal. Not to mention, a Section 529 plan offers significant tax and estate planning advantages.

When thinking of baby saving's, however, it's important to make sure you don't forget about the other financial tasks you set when you got married. Specifically, be sure to keep an eye on your retirement saving such as a 401(k) or IRA. Remember, a student can take out a loan for their college education, but retirees cannot take out a loan to support their golden years.

Patty Ann Hamblen is a Vice President, Certified Financial Manager and Financial Advisor at Merrill Lynch in Tampa specializing in wealth management services. Patty Ann can be reached at (727) 824-7344 or phamblen@pclient.ml.com.


---
---
---
Leave a Comment